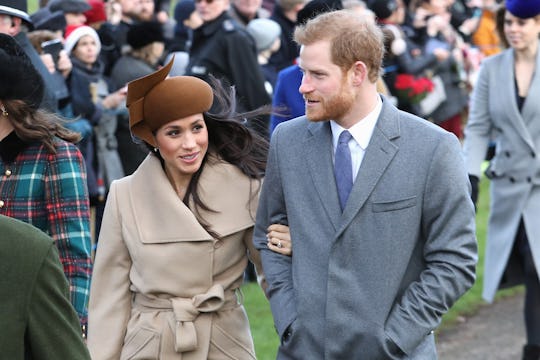 Chris Jackson/Getty Images Entertainment/Getty Images
Prince Harry & Meghan Markle Might Not Be Able To Invite Obama To Their Wedding, & Here's Why
Prince Harry and his fiancée, Meghan Markle, are gearing up for a royal wedding in the spring. And as anyone who has planned a wedding will tell you, a huge task to take care of months in advance of the big event is the guest list. Prince Harry and Markle reportedly might want to invite President Barack Obama to their wedding, but there's one very big problem — and his name is Donald Trump.
Prince Harry and President Obama forged a friendship after the prince invited Obama as his guest to the Invictus Games in Toronto in late September, according to Newsweek. Now, a report released by The Sun claimed he and Markle would like to invite the Obamas to their wedding in May, but senior Foreign Office and British government officials in the United Kingdom are worried this will seem like a "national snub" to President Trump, and make it tough for Prime Minister Theresa May to "meaningfully engage" with him in the future. A senior government source reportedly told The Sun:
Harry has made it clear he wants the Obamas at the wedding, so it's causing a lot of nervousness.
Trump could react very badly if the Obamas get to a Royal wedding before he has had a chance to meet the Queen.
So even though it's Prince Harry and Markle's wedding, they may not be able to invite people they count as friends, just in case Trump gets offended by the move. I guess that's one downside to being royalty.
Although the wedding won't have to follow the "full regulations" of a state wedding, the government of the U.K. will play a "consultative role," according to AOL. That could mean that the government can at least strongly hint to Buckingham Palace that the Obamas should be kept off the guest list if they think it could negatively impact international relations between the United States and the U.K. And to think, most regular couples face enough pressure as it is when it comes to compiling a guest list for their wedding, and they don't have to deal with damaging international relations as a possible consequence.
Relations between Trump and May and their two countries are already reportedly "tense," because May criticized Trump for retweeting a deputy leader of a British far-right group in November, Vanity Fair reported.
Plus, Markle apparently isn't a fan of the current president. In an interview on the Nightly Show with Larry Wilmore in May 2016, before her relationship with Prince Harry began, Markle said, according to The Independent:
Yes of course Trump is divisive. Think about just female voters alone.
I think it was in 2012, the Republican Party lost the female vote by 12 points. That's a huge number and with as misogynistic as Trump is and so vocal about it, that's a huge chunk of it.
...certainly because Trump has made it easy to see that you don't really want that kind of world that he's painting.
So even if inviting the Obamas, but not inviting Trump, might not be a personal slight at all, officials behind the scenes are reportedly worried he might see it that way. And past comments by May and Markle might not help matters.
But the truth is, even if Markle or May had absolutely no issue with Trump, or even if Prince Harry and Markle genuinely liked him, there might still be a better chance that the Obamas would be invited before Trump or anyone from his family.
When Prince William and Kate Middleton were married in 2011, Barack and Michelle Obama were not included on the guest list because of the added security costs of protecting President Obama in particular, Newsweek reported. There would likely be a similar issue with Trump or his wife or close family members attending Prince Harry and Markle's wedding.
But since Obama is no longer president, he wouldn't need the sort of extensive security detail he used to, and there's a better chance he could be invited. Plus, again, he seems to actually be friends with Prince Harry, which is a pretty good reason to be included on the list of guests for his wedding.
However, the possibility that Trump would not respond well if the Obamas were asked to come but he wasn't might be enough for Prince Harry to have to re-think the list and consider not inviting someone he considers a friend. If that is the case, it's a real shame, because couples should be able to surround themselves with whomever they want on their big day.
Here's hoping Prince Harry and Markle get to have anyone they want in attendance at their wedding, no matter what the current U.S. president thinks of the situation.