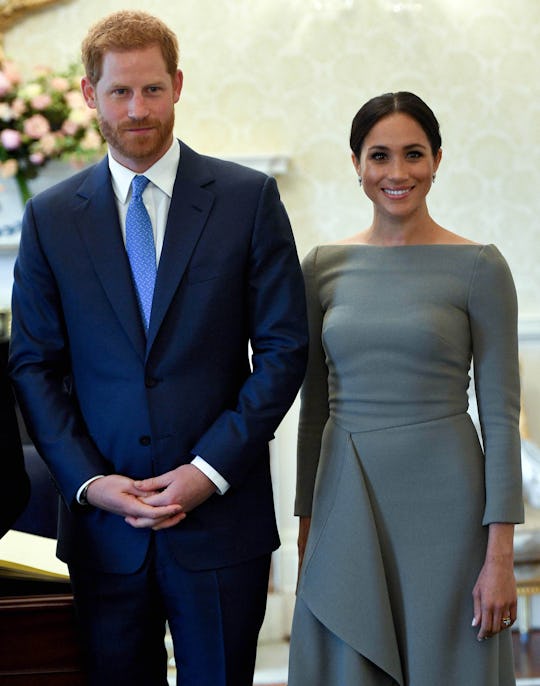 Pool/Getty Images Entertainment/Getty Images
Oddly Enough, Prince Harry & Meghan Markle Wouldn't Have Custody Of Future Kids
Sometimes the rules of the British royal family seem a little weird, but they aren't always quite this totally bizarre. Apparently, Prince Harry and Meghan Markle wouldn't have full custody of any kids they may have for a very strange reason, and thanks to a very dated law. Because there weren't enough odd things about becoming a royal that Markle has to get used to, I suppose.
Her Majesty Queen Elizabeth II actually has full legal custody of the minor royals, according to royal expert Marlene Koenig. That's essentially the equivalent of your parents having more rights to their grandchildren than you do to your own kids, except the whole royal family aspect of things makes the whole set-up the default legally.
Koenig said, "The sovereign has legal custody of the minor grandchildren... This goes back to King George I [who ruled in the early 1700s], and the law's never been changed."
As the story goes, Koenig says King George I "had a very poor relationship" with King George II, his son, so a law was passed making it so the King was the actual guardian of the grandkids. And you thought your family drama was ridiculous.
And it's not as if this is an old rule that has suddenly come out of the shadows of legal obscurity.
In an article in The Times back in Dec. 1993, Constitutional expert Michael L. Nash wrote about the same issue in regards to Prince Charles and Princess Diana, according to Royal Musings, a blog about the royal houses of the United Kingdom, Sweden, Denmark, Norway, Belgium, Luxembourg, Liechtenstein, the Netherlands, Spain, Monaco, and former European monarchies written by Marlene Koenig. The blog reported that Nash wrote at the time:
Queen has the last word in the custody upbringing, education and even the right of abode of the princes, even during the lifetime of their father, Prince Charles. As for their mother, the Princess of Wales, her say is a matter of discretion and negotiation.
And the law hasn't been changed since that was written in the early 90s, so it's technically still in place.
It sounds like the royals don't actually pay too much attention to the ancient law, but Koenig pointed out to news.com.au that it has, at times, impacted the way the royals care for royal minors. For instance, "When [Princes Harry and William] were little, Prince Charles asked the Queen if both children could fly on a plane together to Scotland, to which the Queen said yes," Koenig told the outlet.
In general, the royal children need permission from the Queen to travel, as she has "the last word on parenting decisions" such as that, news.com.au reported.
Now, to be fair, any talk of this in regards to Prince Harry and Markle is a little premature. The royal couple were just married in May, after all, and don't even have any kids yet.
However, a source reportedly close to Markle told Us Weekly back in early June that "having children is definitely a priority" for the royal couple, and that Markle and Harry "want to start a family right away — and she'll start trying as soon as she can."
Just to be safe, a source like that should probably be taken with a grain of salt, because it's not as if it's a royal spokesperson or a close member of either of their families making such a bold statement on behalf of the couple. But royal expert Katie Nicholl also said in March that Prince Harry, at least, was "very keen to start a family" and wanted to do so not long after the wedding, according to Entertainment Tonight. So that's at least two sources claiming something similar about Prince Harry and Markle's desire to become parents in the near future, in any case.
It's totally up to Prince Harry and Markle when and if they have kids, of course. But technically, it might not legally be up to them how exactly any of their future hypothetical children will be cared for. My guess is the public may never stop being surprised by all the strange rules involved in being a member of the British royal family.