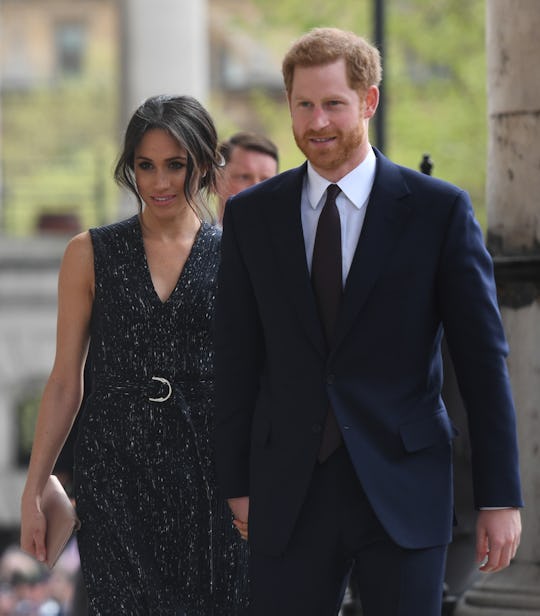 WPA Pool/Getty Images Entertainment/Getty Images
Prince Harry & Meghan Markle's 1st Event As A Married Couple Is Sooner Than You Think
Can you believe the most-anticipated wedding of the year is just around the corner? That's right. Prince Harry and "American commoner"/former actress Meghan Markle will exchange vows on Saturday, May 19 at Windsor Castle. The grand affair is sure to be filled-to-the-brim with royal tradition and stunning gowns — not to mention more than a few tears shed around the world. After the royal wedding is all said and done, though, it looks like the newlyweds won't immediately have a honeymoon together. That's because Prince Harry and Meghan Markle's first event as a married couple is sooner than you might think.
E! Online reported Prince Harry and Markle will make their first official appearance as husband and wife on Tuesday, May 22 — just three days after saying, "I do." The event will honor Prince Charles's birthday, according to the publication. Along with the newly-married couple, Prince Willam and and Duchess Camilla are expected to be in attendance at the Prince of Wales' 70th Birthday Patronage Celebration, which will be held in the gardens of Buckingham Palace. Royal reporter Omid Scobie tweeted on Monday that the shindig will "celebrate Charles' patronages, military affiliations and others involved in charities he supports." Furthermore, "cadets and emergency services personnel who were first responders at the Manchester Arena bombing on May 22, 2017, will also attend."
With the newlyweds back to the grind so soon after tying the knot, many people are undoubtedly wondering how they'll be able to squeeze in a honeymoon. In reality, Prince Harry and Markle have only postponed their honeymoon in order to be able to attend the May 22 event in honor of Prince Charles, The Telegraph reported. This isn't completely out of the ordinary, for the record. After all, Prince William and Kate Middleton didn't leave for their honeymoon until roughly two weeks after their 2011 nuptials, the publication reported.
The location of Prince Harry and Markle's romantic getaway has not yet been announced. However, a source had previously told E! News the newlywed were "going somewhere they can bring minimal security to and not worry about people seeing them has been of the utmost importance." Which makes complete sense, if you ask me. I mean, who wants paparazzi crashing their honeymoon?
Although the details surrounding Prince Harry and Meghan Markle's honeymoon are still murky, where they will be staying on the eve of their wedding is already set in stone. Elle reported Markle will be staying with her mother, Doria Ragland, at the five-star hotel Cliveden House. And just feast your eyes on the fanciness in store for them.
Meanwhile Prince Harry and Prince William will be enjoying Friday night at a luxury country house and spa called Coworth Park, Elle reported. Which doesn't look too shabby, either. In case you were wondering.
Interestingly, Prince Harry and Markle will be spending their wedding night at Windor Castle, along with members of their extended family, The Telegraph reported. I don't know about you, but that seems slightly awkward, considering the whole "consummating their marriage" expectation. Let's get real, though; they're responsible adults and have likely DTD many a time pre-marriage. But still. At least the place is huge. (And hopefully they won't be too close to the queen's quarters.)
Sometime after their marriage, Prince Harry and Meghan Markle will will be given a new title by Queen Elizabeth II — which is predicted to be a dukedom, The Telegraph reported. Although a specific deadline isn't in place for this announcement, I'm willing to be it'll be before the couple attends their very first event as a married couple on May 22. That way, they can be introduced with their full and official titles as husband and wife.