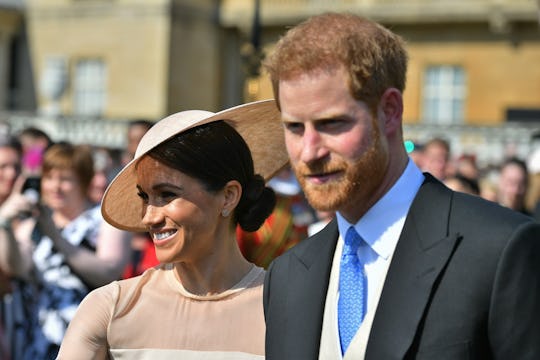 WPA Pool/Getty Images Entertainment/Getty Images
Prince Harry & Meghan Markle's First Royal Tour Itinerary Is Here, & Prepare To Be Jealous
Now that Prince Harry, Duke of Sussex, and Meghan Markle, Duchess of Sussex, are officially a married couple, they're ready to take on the world. Although Harry and Meghan are entitled to take some time off (the wedding at St George's Chapel at Windsor Castle was less than a month ago, after all), the two are more than eager to start their royal duties as husband and wife. Case in point: On Monday, Kensington Palace confirmed Prince Harry and Meghan Markle's first royal tour itinerary. And yes, the impressive itinerary is bound to make any commoner like myself feel a bit envious.
Bright and early on Monday morning, Kensington Palace's Twitter account sent out a brief message announcing Meghan and Harry's first royal tour itinerary. Considering this trip will mark Meghan's introduction into the professional side of royal life, the announcement is a *big* deal.
So, where will Meghan and Harry jet off to for their first official trip overseas? "The Duke and Duchess of Sussex will undertake an official visit to Australia, Fiji, the Kingdom of Tonga, and New Zealand in the Autumn," Kensington Palace's tweet read. "The tour will fall on the occasion of @InvictusSydney 2018." Sounds amazing. Is there any chance I can join in on this royal tour?
Besides the fact that the itinerary includes an incredible list of locales, it's pretty cool that Meghan and Harry will be in town for the 2018 Invictus Games. The Invictus Games — launched by Harry himself in 2014 — is an "international sporting event for injured servicemen and women," according to The Royal Foundation. The Invictus Games is very similar to the the Warrior Games in the United States, an annual event designed to "enhance the recovery and rehabilitation of wounded, ill and injured service members and expose them to adaptive sports," according to Department of Defense Warrior Games. In short, it's pretty special that Harry is committed to attending the Invictus Games each year, and it's great that Meghan will get to participate in an event close to her husband's heart.
Following the news of the trip, people took to Twitter to express their excitement.
"I'm excited for the Duke and Duchess of Sussex. They are a charismatic couple and a true force for good," a supporter penned. "Can't wait for the Invictus Games and to see them touring Commonwealth countries such as Australia, Fiji, New Zealand, etc. I'm sure it'll be a fun and adventurous time."
"Do you have any job vacancies that involve travelling with them? Just asking...," one fan joked.
Another commenter chimed in: "That's a great trip!!"
Another cool thing about this trip is its homage to Prince Harry's parents, Prince Charles, Prince Of Wales, and Diana, Princess of Wales. In 1983, Prince Charles and Princess Diana visited Australia and New Zealand for their first royal tour as a married couple, according to The Telegraph. During the trip, Princess Diana and Prince Charles visited the "Sydney Opera House, Ayers Rock and Alice Springs, along with visits to Wellington and Auckland in New Zealand," according to Harper's Bazaar. Of course, it's possible that Meghan and Harry will also stop by these landmarks.
The good news is fans will get to experience this incredible trip via a bunch of pictures. When Prince William, Duke of Cambridge, and Catherine, Duchess of Cambridge, embarked on their first royal tour to Canada, for instance, Kensington Palace released plenty of snaps documenting the trip. In one particularly memorable photo from the tour, William and Kate both donned white cowboy hats to pay tribute to the city of Calgary, aka "Cowtown." How cute.
Well, I think it's safe to say fall can't come soon enough. Not only will fans get to live vicariously through Meghan and Harry enviable travels, but they'll also get the chance to see the power couple in action for the first time.