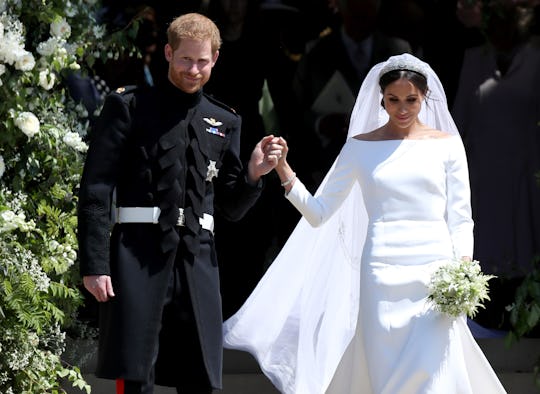 WPA Pool/Getty Images Entertainment/Getty Images
Here's Why You Can Probably Stop Taking Bets On Prince Harry & Meghan Markle's Honeymoon Plans
Plenty of people dream about their ideal honeymoon. Some keep their plans solely in their heads while others go all out with notebooks, journal entries detailing each new addition, and possibly some scrapbooking thrown in. Amidst all of this, living vicariously through other people's honeymoons can be a bit of a guilty pleasure for some of us. But, sadly, Prince Harry and Meghan Markle's honeymoon plans may never be revealed, so you can probably stop taking bets on it.
Following the newlywed Duke and Duchess of Sussex's honeymoon plans could serve as great inspiration. It's also just nice to have a conclusion. Their engagement was a public affair; their wedding was, very obviously, a public affair; people like to see events through to their completion, so they want to see where the happy couple ends up. But, recent reports show that while some people might think they know the royal couple's destination, nothing is for certain and it likely won't be until after the fact.
About a month ago, Travel & Leisure reported that a "source" confirmed that Markle and Prince Harry would go to Namibia on their honeymoon. They certainly weren't alone in this belief as Cosmopolitan reported that Namibia was the chosen destination as well. And as Express reported, Namibia is also "a firm favourite" among bookies in the United Kingdom.
Now, it's totally possible that heading to Namibia was perhaps the couple's original plan, but it's switched now. Royal expert Omid Scobie, who served as ABC News' royal contributor during the wedding, confirmed that any destination the press releases is no longer a viable option, according to a new report from Cosmopolitan.
Earlier this week, Scobie told ELLE, "The honeymoon destination has changed a few times since they started planning. If a location leaks prior to travel, it compromises their safety on the trip, and they'll be advised by their protection team to change plans."
So, it seems that the rush to guess where the couple will end up creates a paradoxical chain. The media and public might get it right, but as soon as they do, it's off to guessing again as the couple scrambles to switch out destinations. While Scobie didn't elaborate in his interview with ELLE on how many times, exactly, the couple changed their destination, any amount past that first time would be frustrating. Safety reasons are obviously valid, but even after having such a public engagement and wedding, it seems completely fair that Prince Harry and Markle would want their honeymoon out of the public eye.
Scobie told ELLE that a lot of planning around safety has gone into other honeymoons as well. "William and Kate's protection officers ended up doing recon on two destinations before they settled on the Seychelles for their 2011 honeymoon," Scobie told the publication.
Paparazzi did still manage to snap images of Prince William and Middleton on their getaway, as The Daily Beast reported. Given the routine switch of location with Prince Harry and Markle, it seems like their team is learning from past mistakes and doing their best to eliminate any chances of the couple being found.
Although no one will know an exact location, it seems one thing is possible: the honeymoon will likely be in Africa. Last year, Prince Harry took Markle on a romantic getaway to Botswana in celebration of her 36th birthday. The trip took place only a few months before the couple got engaged. That was actually their second time back to Botswana as well. The first time, Prince Harry whisked Markle away after only a couple of dates, as ELLE reported. And, according to Express, Prince Harry chose a diamond from Botswana to make up part of Markle's engagement ring.
Some might worry that saying the honeymoon will be somewhere in Africa might put the pair in danger, but no fear. Africa itself is a large continent, with 54 beautiful countries. In addition to the sheer size of Africa, the couple has a highly competent security team that can help move the couple securely without them being tracked, as ABC News noted.
Wherever they end up going, let's hope that their honeymoon ends up going well! And then, maybe, everyone can look forward to seeing details after their romantic getaway has ended.