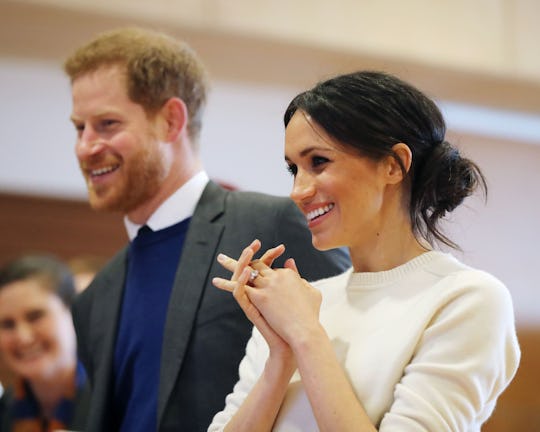 Pool/Getty Images Entertainment/Getty Images
Prince Harry & Meghan Markle Won't Go On Their Honeymoon Right After Their Wedding & Here's Why
While weddings are a joyous occasion, they can also be super stressful — between the planning and the pressure put on the bride and groom to make it be one of the best days of their lives. When Prince Harry and Meghan Markle get married at the end of this month, it's likely they might feel some pressure — especially since their wedding will be televised all over the world. At the end of the wedding, however, most couples have their honeymoon to look forward to; but Prince Harry and Markle might not get this luxury. This is because it was just revealed that Prince Harry and Markle's honeymoon plans will be delayed, but it's for a pretty normal reason.
Not all couples get to enjoy going on a honeymoon as soon as they get married. A vacation to a tropical island or fun destination immediately after a couple gets married is not only costly for them, but it's hard for a lot of people to take a week off of work just to enjoy their first week of wedded bliss. To me, that sounds a lot more stressful than enjoying the honeymoon itself.
But these couples are not alone. On Friday, Kensington Palace announced that Prince Harry and Markle will be delaying their honeymoon, because they, too, have to work the week after their wedding, according to E! News. How relatable is that?
Prince Harry and Markle will have to make their first official engagement as a married couple one week after saying "I do," according to E! News and will likely honeymoon at a later date, whenever that may be.
While they're definitely not the first couple to do this, people might be surprised to find out that they're not the first royal couple to do this, either. When Prince Harry's older brother, Prince William, wed Kate Middleton in 2011, they didn't go on their honeymoon right away, either, according to the New York Post. Instead, Prince William had to "return to military duty" where he served as a helicopter rescue pilot in the Royal Air Force at the time.
As an alternative to jetting off to their honeymoon right away, the couple spent a weekend together in Britain right after their wedding to get some much needed private time before jetting off to the Seychelles at a later date, according to Hello!. But a lot of the details about their honeymoon were reportedly kept top secret, according to Pop Sugar, especially since the couple asked the media "not to intrude" on their honeymoon, according to Newsday. Prince William and Middleton ended up taking their honeymoon almost one month after their wedding, which means it is likely that Prince Harry and Markle will follow suit.
And because Prince William and Middleton's honeymoon location was so secretive, it is also possible that Prince William's younger brother and his bride will follow suit in this tradition. After all, with so many people watching their wedding, it is likely that they'll want to enjoy this special time as newlyweds together, alone. You really can't blame them for this.
As previously stated, more and more people are starting to delay their honeymoons, according to ABC News, like Markle and Prince Harry. By delaying their honeymoon, this allows couples to appreciate both the wedding and the vacation that they eventually take together, after, according to ABC News, as well as save up (in both money and work hours) for their vacation. But the most important thing, according to Condé Nast Traveler is that newlyweds don't skip their honeymoon, no matter how long they postpone it.
Prince Harry and Markle should want to extend their honeymoon for as long as possible. Because once people have stopped guessing where and when they will take their honeymoon, they will start wondering when they will start a family. So they should really enjoy those honeymoon days for as long as possible.