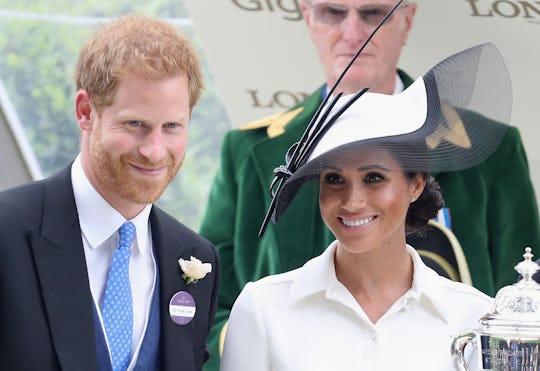 Chris Jackson/Getty Images Entertainment/Getty Images
Prince Harry & Meghan Markle's Nicknames For Each Other Are As Adorable As You'd Imagine
Prince Harry and Meghan Markle's cuteness as a couple really holds no bounds. With every public appearance they make and glance the newlyweds exchange, you can tell they're so in love with each other. But if anyone had any doubts or needed yet another reason to believe how cute they are, Prince Harry and Meghan Markle's nicknames for each other will certainly do the trick
Everyone has a nickname at some point in their life. It might be an abbreviated version of your full name or a nod to something embarrassing you did once upon a time. But, hopefully, they're often used in an endearing way between friends and loved ones; it can show just how close two people are to one another, as Oxford Dictionaries explained. Markle and Prince Harry definitely fall into that second category, because they reportedly have super normal, yet totally sweet nicknames for each other, according to Hello! Magazine.
Prince Harry's nickname for Markle is reportedly short and sweet; he's called her "Meg" in public, during an Invictus Games reception earlier this year, according to Hello! Magazine. Markle, in return, reportedly calls Prince Harry "Haz," according to Hello! Magazine, as revealed by her friend, Gina-Nelthorpe Cowne. Markle's friend, Byrony Gordon, also let it slip during an interview in July that Markle reportedly calls Prince Harry "Hazza," according to The Sun.
Meg and Haz? Those names go together as well as peanut butter and jelly does.
But Haz isn't the only nickname for Prince Harry. Friends close to the prince (including Markle), according to ELLE, reportedly refer to Prince Harry as "Spike," which was a moniker that he apparently used to get around the royal family social media ban, as The Cut reported. Markle also reportedly referred to Prince Harry as "My Prince" during her wedding toast at one of her receptions in May, according to Marie Claire. Although it's not necessarily a nickname — and one she probably doesn't use when she's hanging out with friends or out in public — the idea of her calling Prince Harry "My Prince" is just so adorable, right?
Prince Harry isn't the only one to have a nickname for his wife. His father, Prince Charles, reportedly has a nickname for Markle, too, according to the Daily Mail. Prince Charles reportedly calls Markle "tungsten" after one of the "toughest things found in nature," as explained by Live Science. Although the nickname is definitely more of a mouthful than Meghan or just Meg, the meaning behind the nickname is incredibly special.
"Prince Charles admires Meghan for her strength and backbone she gives Harry, who needs a tungsten-type figure in his life as he can be a bit of a softy," a source said to be close to Kensington Palace reportedly told the Daily Mail. "It's become a term of endearment."
When you think about how much Markle has been through in the past year — between moving to the United Kingdom, planning a wedding, and adjusting to life as a royal — she has come out of these situations so strong. As such, tungsten really is the perfect nickname for her.
If Prince Harry and Markle ever get sick of their nicknames, they do have more formal titles that they can always revert back to, of course. It's common knowledge that Prince Harry and Markle adopted the titles of "Duke and Duchess of Sussex" after their wedding, according to CNN. Although they probably don't call themselves those names at home, it is an alternative to their given names and the nicknames they call each other.
I don't know about you, but I'm totally a fan of Meg and Haz for these two lovebirds.