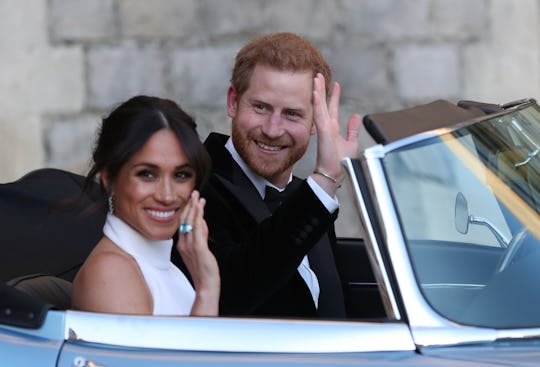 WPA Pool/Getty Images Entertainment/Getty Images
Prince Harry & Meghan Markle Sent Out The *Sweetest* Wedding Thank You Notes, Because Obviously
While the biggest event of the year has come and gone — Prince Harry and Meghan Markle's royal wedding, of course — that doesn't mean royal fans can't look back and reminiscence. As it's 2018, the royal wedding was televised and heavily photographed, so it's incredibly easy to check out all the gorgeous photos and take a walk down memory lane whenever you want. Now, though, the newlyweds have added one more keepsake to these sweet memories. And if you were lucky enough, you may have gotten one of Prince Harry and Meghan Markle's royal wedding thank you notes sent in the mail recently. But if your mailbox is empty, don't worry — you can still check them out and be blown away, because they're just as sweet and classy as you'd imagine.
In following with wedding traditions around the world, the new Duke and Duchess of Sussex have reportedly sent out their thank you cards to those who wished them well before and after their big day. But, because Markle has been sure to be as inclusive as possible with all things royal wedding, fans shouldn't be surprised that those thank you notes aren't just going out to the celebrities and members of the royal family who attended the wedding on May 19. Oh no.
According to Cosmopolitan, the cards also went out to any and all fans across the globe who sent a little congrats card or letter before the wedding. And they aren't just on generic stationary, either, as Instagram account Royal Letters shared recently. According to the account's post about the cards, they're seriously gorgeous and totally perfect. I mean, look how sweet!
As you can see based on the photos of the card above, the couple has chosen to send out a copy of their iconic wedding photograph in black and white, shot by Alexi Lubomirski, according to Harper's Bazaar. And in addition to the stunning photo and the official Kensington Palace crest, the cards also include a touching message. As reported by Harper's Bazaar, the message reads:
The Duke and Duchess of Sussex have been overwhelmed by all the incredibly kind cards and letters they have received on the occasion of their Wedding, and are so touched that you took the trouble to write as you did. It really was most thoughtful of you and greatly appreciated by Their Royal Highnesses who send you their very best wishes.
Predictably, plenty of fans wrote to the royal couple as their wedding day approached to let them know how happy they were for the bride and groom, and Prince Harry and Markle didn't just want to let those sweet messages be forgotten. And really, who could be surprised by this? This isn't the first time that the two have been conscious of their actions and worked hard to include more than just the rich and famous in their big day.
As USA Today reported back in April, 1,200 members of the public were invited to the royal wedding on the grounds of Windsor Castle. So clearly, the Duke and Duchess want to make sure that they're not too far removed from the real world, despite the fact that they're literally a Duke and Duchess.
Really, though, the notes, sweet as they may be, aren't necessarily shocking. Especially for those who are fans of Markle. The Duchess of Sussex was recently spotted greeting fans, asking their names, shaking their hands, and engaging in genuine conversation at an event, making it very blatant that she likes meeting fans. As People reported, a video taken while Markle was visiting Cheshire, England with Queen Elizabeth II showed a very engaged Duchess who loves meeting members of the public and also loves her new role as a royal.
With the invitations, the thank you cards, and Markle's lovely attempts to be as down-to-earth and approachable as possible, there's definitely a sense that this Duke and Duchess are ready to tackle their new lives as a wedded couple with as much grace and kindness as possible.