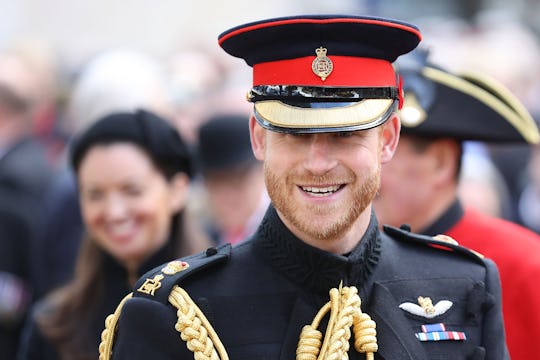 Tim P. Whitby/Getty Images Entertainment/Getty Images
Ahem...You Need To See This Video Of Prince Harry Fawning Over An Adorable Puppy
It's no secret the world could use an extra dose of cuteness right now. And if you're in the market for some adorable content, look no further than this video of Prince Harry petting a puppy while in uniform. You're welcome.
The Duke of Sussex has had his fair share of aww-worthy moments throughout the years. One example? I particularly enjoyed the moment when he faux admonished a toddler who tugged on the Duchess of Sussex's hair. The sweet incident is proof of Prince Harry's amazing sense of humor, as well as his easy way with kids.
Or what about that time a young child pulled on the Duke of Sussex's beard? He laughed and gave the boy a big hug afterward, cementing his status as the most lovable royal out there.
As for the Duke of Sussex's relationship with animals? He has earned high marks in that department too. In October, Prince Harry and Meghan Markle attended a community picnic in Australia that was filled with dogs, and the dad-to-be made it a point to greet as many pups as possible. Translation: The royal loves dogs.
But if you remain on the fence about Prince Harry's love affair with canines, you need to check out this swoon-worthy video of him greeting a dog at an official appearance in London Thursday night.
The precious moment occurred at the 90th Field of Remembrance at Westminster Abbey in London, an event the Duke of Sussex attended while wearing his full military uniform.
One of the doggos at the event — a new mascot for the Staffordshire Regiment Association named Watchman VI, according to Us Weekly — stood on its hind legs to gift Prince Harry with some kisses. And guess what? The Duke of Sussex lapped up (get it?) every second of the sweet display.
Following the endearing moment, fans took to Twitter to gush about Prince Harry.
"Such a special young man," one person wrote. "Proud to have him as our Duke of Sussex, and his beautiful wife the Duchess. They are such a wonderful couple. The Duke is one of the best members of the Royal Family."
Someone else said: "We love him so much and I could see even dogs love him too. He is so special."
"The best prince," another person chimed in.
"Prince Harry so fine," a commenter gushed. "Omg Meghan's husband is fine, I love the way he walks, so much swag!!!"
It shouldn't come as a surprise to Prince Harry's longtime fans that he loves dogs. The royal and Markle recently adopted a female rescue dog, and the pup splits her time "between the palace and their country home in the Cotswolds," according to Harper's Bazaar. Talk about a heartwarming development.
As for the dog's name? That remains a mystery, but I do know that the canine isn't named Oz as previously reported. Markle shut down that rumor in October.
Of course, there's a good chance this dog video won't be the last time Prince Harry sends hearts fluttering. The Duke of Sussex has perfected the art of cute moments, after all.