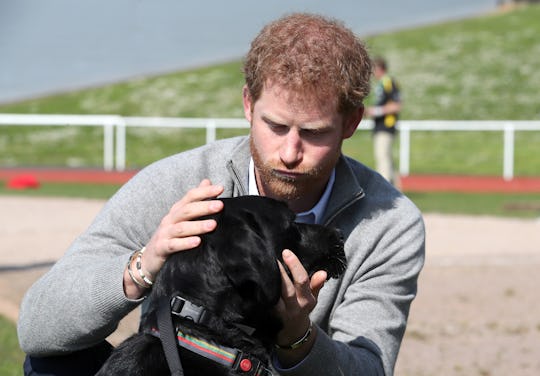 Chris Jackson/Getty Images Entertainment/Getty Images
Prince Harry Opens Up About Mental Health Issues
Prince Harry has worked hard to help others others, but he's only now speaking out about how long he waited to help himself after the death of his mother. Prince Harry received counseling after Princess Diana's death, he revealed on a recent podcast, although he suffered for years before he took that step. It's encouraging to see him speaking out in such a public way, as his comments about getting treatment are so important in reducing the stigma surrounding mental health and grief.
The death of Princess Diana in a car crash back in 1997 shocked the world. Prince Harry was only 12 when it happened and, for years afterward, the prince repressed his grief, he said on the podcast Mad World, adding,
I can safely say that losing my mum at the age of 12, and therefore shutting down all of my emotions for the last 20 years, has had a quite serious effect on not only my personal life but my work as well. I have probably been very close to a complete breakdown on numerous occasions when all sorts of grief and sort of lies and misconceptions and everything are coming to you from every angle.
But finally, he said, he agreed to seek treatment because his brother, Prince William, told him he needed to face his grief. Now, he's glad he did, and is hoping that others will do the same.
The years since the prince began talking to a therapist have seemed much happier and healthier for him. Tabloids loved chronicling his hard-partying behavior when he was in his 20s, but now the prince, 32, has been seriously dating actress Meghan Markle, and recently founded the Invictus Games, an international sports competition for wounded military members and veterans. He's also working with his brother and sister-in-law, Kate Middleton, on the Heads Together campaign, which aims to reduce the stigma surrounding mental health, instead of simply meeting personal struggles with a stiff upper lip.
Grief is a tricky monster. It stays with you long after you think you've sent it away, tapping you on the shoulder at the most unpredictable times, making you act in strange (and often unhealthy) ways so that you don't have to look at it head on.
But so many people who struggle with grief and other mental health issues are not alone, even though it may seem that everyone else is having an easier time. As Prince Harry said, "The experience I have had is that once you start talking about it, you realize that actually you're part of quite a big club."
So if you've been struggling, just remember that there's no shame in getting help. Hey, even princes are doing it.