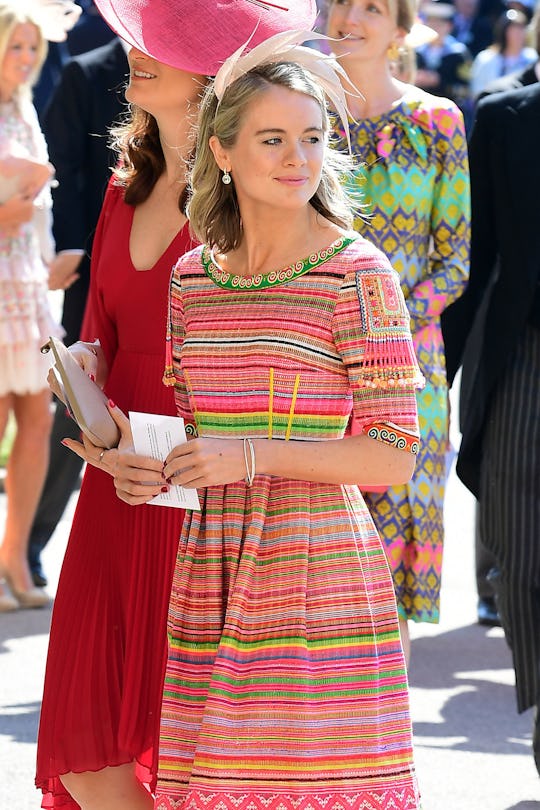 WPA Pool/Getty Images Entertainment/Getty Images
Why Prince Harry's Ex Cressida Bonas Definitely Isn't Bitter About Not Being A Duchess
Being a guest at your ex's wedding usually isn't particularly high on most people's bucket lists, so when Prince Harry's ex-girlfriends Cressida Bonas and Chelsey Davy were spotted arriving at St. George's Chapel as he prepared to wed Meghan Markle, it didn't seem like too much of a reach to think they probably weren't as thrilled to be there as everyone else. Some even suggested that the prince's former flames had to be majorly regretting their breakups, but Prince Harry's ex Cressida Bonas revealed her biggest royal wedding worry in an article for The Spectator Friday, and, well, it probably isn't what you think.
Bonas, 28, is a dancer and actress who comes from a seriously posh British family, and compared to Markle — the Los Angeles-born, biracial daughter of a divorced, middle-class couple — she's is pretty much exactly the type of girl you'd imagine would date Queen Elizabeth II's grandson. Her parents, for example, are entrepreneur Jeffrey Bonas and socialite Lady Mary-Gaye Curzon, and growing up, Bonas attended the super swanky Stowe School in Buckingham (cost: $40,000 a year), according to The Sun. Her half-sister, Isabella Calthrope, was once rumored to be a potential love interest for Prince William, according to The Daily Beast, and if that weren't already enough, she's also said to be a descendent of King Charles II.
But despite her high-society credentials, Bonas was pretty much unknown by the public until she began dating Prince Harry in 2012 (the two were introduced by Prince Harry's cousin, Princess Eugenie), at which point her name began appearing in tabloid headlines all over the world.
Bonas' two-year relationship with Prince Harry led to much speculation over whether or not he was going to pop the question, but just like Davy before her, Bonas was said to have been unhappy with the pressure and public scrutiny that comes along with being the girlfriend of a royal, according to The Daily Mail. But might she be second-guessing her choice four years later, now that it's Markle who has become the Duchess of Sussex?
Uh, not quite. Bonas wrote about attending the royal wedding in a piece for The Spectator's "Diary" column, and well, it definitely sounds like she didn't mind at all that her famous ex had moved on for good. Her biggest concern when it came to attending the year's most high-profile wedding? Whether or not she could pull off the hat required by the ceremony dress code. Bonas wrote:
Friends are starting to get married, which means the dilemma of British wedding attire. Hats. Why do I find hats so tricky? Tricky to wear, tricky to look at, and extremely tricky for the poor soul sitting in the pew behind ... Last weekend I attended the royal wedding. The invitation clearly stated that guests must wear hats. Yikes. I opted for a minimal feathered number — and can only hope I got it right.
Bonas goes on to write that her sister, Pandora, is "the only person [she knows] who can pull off wearing a hat," and that when she asked her mother for some hat-wearing advice, she said, "Your sister wears the hat, the hat doesn't wear your sister." (Thanks, Mom).
Worrying about wearing a hat to the royal wedding might seem pretty trivial, but honestly, Bonas' honesty actually feels unexpectedly badass. After all, the world literally just watched her witness her ex-boyfriend — sixth in line to the British throne — marry a beautiful, intelligent, American actress who is basically beloved by everyone on the planet at the moment. And yet, she mentions it as though it were just a minor detail of her daily life as an otherwise very well-to-do London 20-something who brunches with her family every weekend at an exclusive members-only club on Portobello Road.
In other words? Single women might be unfairly expected to go home and cry to their cats whenever their handsome ex-boyfriends go on to marry amazing women who aren't them, but Bonas clearly doesn't have any time for those misogynist stereotypes (and she definitely doesn't need your pity). After briefly musing about the difficulty of not being a hat person, Bonas then moves on to discuss her brief post-wedding trip to Norfolk (which was presumably fabulous), her subsequent invite to a dinner party attended by an actor and a former British prime minister, and the fact that she closed out the weekend by visiting London's Tate Modern museum.
So while the rest of the world may still be discussing Prince Harry's totally-in-love wedding ceremony lip bite, Bonas is living her best life in London, without any of the pressure or expectation that comes along with being a member of the royal family. And as much as it may seem that Markle is living a fairytale come true? It certainly doesn't seem like Bonas has any reason whatsoever to shed a tear about it.