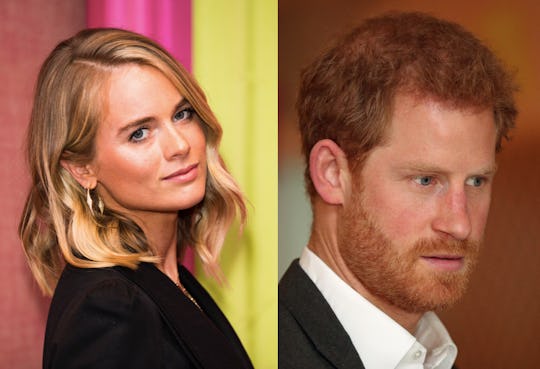 Tristan Fewings/Getty Images Entertainment/Getty Images; WPA Pool/Getty Images Entertainment/Getty Images
Prince Harry's Ex Shared An Instagram That Fans Are Calling "Salty"
Following the news that Meghan Markle and Prince Harry got engaged, many people took to social media to wonder about the happy couple's respective exes. The speculation is only natural given the players that are involved — it's not every day that a British royal gets engaged to an American actress, after all. So, have the pair's exes commented on the exciting news? Some people believe Prince Harry's ex has spoken out via Instagram, and the internet is here for the supposed drama.
On Tuesday, Prince Harry's ex Cressida Bonas shared what the internet thought was a shady and cryptic Instagram post about the engagement news. Bonas dated Prince Harry for two years between 2012 to 2014, according to The Sun, and there was some rumblings about a reconciliation in 2015. So, it makes sense that if any of Prince Harry's exes would speak out on the engagement, it would be Bonas. Bonas is one of Prince Harry's longest public relationships beside his romance with ex-girlfriend Chelsy Davy, and the coupling was serious enough for there to be repeated rumors of an engagement between the two.
Moving on to the post in question, it looks like Bonas shared a generic quote about relationships, credited to Just.LifeQuotes. The seemingly innocent quote is what has people buzzing about Bonas' supposed shadiness.
The quote reads:
No matter how educated, talented, rich or cool you believe you are, how you treat people ultimately tells it all.
Bonas captioned the quote:
Truth 🙌🏼 #quotestoliveby 👊🏻.
Of course, many people think this is Bonas' way of implying that Prince Harry treated her badly during their relationship, and that it's a low-key jab at his romance with Markle.
One person on Instagram said: "He chose Meghan, you should accept it..." Another added: "Sh*t just got salty. Lol."
Personally, I think it's a bit of a stretch to say this post is definitely about Markle and Prince Harry's impending nuptials. For starters, there aren't any rumors out there suggesting Prince Harry treated Bonas badly. In fact, a source supposedly close to Bonas, author Ingrid Seward, claimed the breakup stemmed from public scrutiny as opposed to poor treatment from Prince Harry. Seward explained, according to the Daily Mail:
A friend of mine's daughter went out with Prince Harry, Cressie, the most gorgeous girl, she just said it was awful because every time she walked down the street she could hear people criticising her. They would whip out their phones and take photos of her. They'd say 'oh look at her hair,' 'oh look at her clothes, look at her boots, she hasn't got her laces done up,' I mean this is just a normal, pretty girl and she just couldn't take it. She just thought 'why are they getting at me.'
Second, Bonas is a very accomplished person in her own right. She's a model and an actress, and she appears to be very secure in her life. It's pretty lame and sexist to assume that Bonas' self-worth is completely vested in an ex-boyfriend, especially since she dated him almost four years ago. Although it can hurt to see someone move on so publicly (emphasis on publicly), I don't think Bonas is spending her nights alone wondering what could have been with Prince Harry. Bonas even spoke out on how it sucked to be "defined by a much more famous man," while dating Prince Harry, according to The Telegraph.
And if you're trying to get a rise out of someone, I'm not sure a generic life quote would be your weapon of choice. That's more of a move I'd expect from my aunt or something.
Other commenters seem to agree with my take on the post. One person argued: "Leave her be. If you even took the time to look at her Instagram posts, you'd see she posts quotes a lot. I doubt this has anything to do with recent events. But as usual, everyone has to pick at and analyze everything." Another chimed in: "People are saying this is about someone in particular... but what do people know..."
Until Bonas gives an interview or releases a statement on the engagement, people won't know what she really thinks about the news. For now, I think it's safe to say Bonas is doing just fine.
Check out Romper's new video series, Romper's Doula Diaries:
Watch full episodes of Romper's Doula Diaries on Facebook Watch.