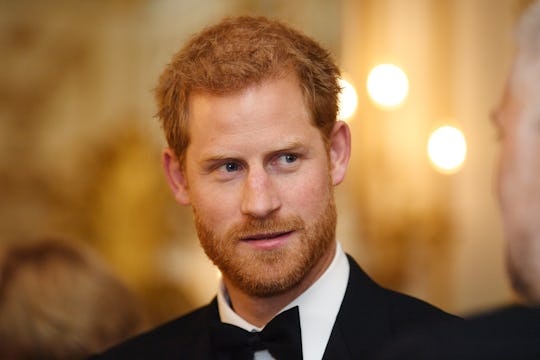 WPA Pool/Getty Images Entertainment/Getty Images
Prince Harry's Quotes About His Mom Are So Heartwarming
Since Princess Diana tragically lost her life in a car accident nearly two decades ago, Prince William and Prince Harry have carried on her legacy. The brothers have continued Princess Diana's philanthropic endeavors and have inherited her sense of compassion. But they've kept pretty much to themselves about the loss of their mother and how it's affected them — until the BBC documentary Diana came out in 2017, in which they opened up about how they're still coping. Prince Harry's quotes about his mom, both from the documentary and from speeches and interviews since her loss, are incredibly heartwarming.
In the documentary, the brothers said they wanted to "stand up for her name," explaining that they felt they let their mother down in the past by not protecting her. They were only 15 and 12 years old at the time of her death. At 34 and 32 — almost the same age as their mother when she passed away at 36 — they said they were ready to speak candidly about it. And they said they felt like they owed it to their mother to film the documentary, according to BBC.
I'm sure they're making their mother proud and that she'd be delighted to hear the things they've both said about her since her passing. Here are a few beautiful quotes from Prince Harry.
On His Mother's Impact
"It was beautiful at the same time, and it was amazing, now looking back at it, it was amazing that our mother had such a huge effect on so many people," Prince Harry said in Diana, the documentary.
On Impressing His Mother
"It's a huge shame she's not here. But I hope she'd be incredibly proud of what we managed to achieve," he said, according to Country Living.
On His Mother's Love
"She was our guardian, friend and protector," he said in a speech given in honor of the 10-year anniversary of his mother's death. "She never once allowed her unfaltering love for us to go unspoken or undemonstrated. Behind the media glare, to us, two children, she was quite simply the best mother in the world."
On Carrying On His Mother's Legacy
"We will do everything we can to make sure she's never forgotten, and carry on all of the special gifts and such that she had and that she portrayed when she was alive," he also said, Country Living reported, adding that he hoped a lot of his mother's talents are shown in the work that he does.
On Wishing He Could've Said More
"If I'd known that that was the last time I was going to speak to my mother the things that I would — the things I would have said to her. All I do remember regretting for the rest of my life how short that phone call is. Looking back now, I have to live with that for the rest of my life," he said on his last phone call with his mother before her death.
On Making His Mother Proud
"All I want to do is make my mother incredibly proud," he said during an interview for his People May 2016 cover story ahead of the Invictus Games. "That's all I've ever wanted to do."
On Doing What His Mother Would Have Wanted
"I don't have that many memories of my childhood with my Mum," he said during the same People cover story interview. "I don't say 'Right, I'm going to get involved in that because that's what my Mum would want me to do,' though inevitably once I'm doing it I think, 'Do you know what? She'd probably love this.'"
On Inheriting His Mother's Charitable Traits
"I believe I've got a lot of my mother in me, basically, and I think she'd want us to do this, me and my brother," Prince Harry said about working with AIDS charities for a documentary in 2004.
On Being The Best He Could Be For His Mother
"I hope she's looking down [at our family] with tears in her eyes being incredibly proud of what we've established," he said, according to Country Living. "I'm sure she's longing for me to have kids so she can be a grandmother again... but I hope that everything we do privately and officially, that it makes her proud."
On Coping With The Loss Of His Mother
"William and I can separate life into two parts," he also said in the speech for the 10-year anniversary of her death. "There are the years that we were blessed beside us with the physical presence of both our mother and father. And then there are the 10 years since our mother's death."
If Princess Diana were here today, it's safe to say she'd be one proud mama.
Check out Romper's new video series, Bearing The Motherload, where disagreeing parents from different sides of an issue sit down with a mediator and talk about how to support (and not judge) each other's parenting perspectives. New episodes air Mondays on Facebook.