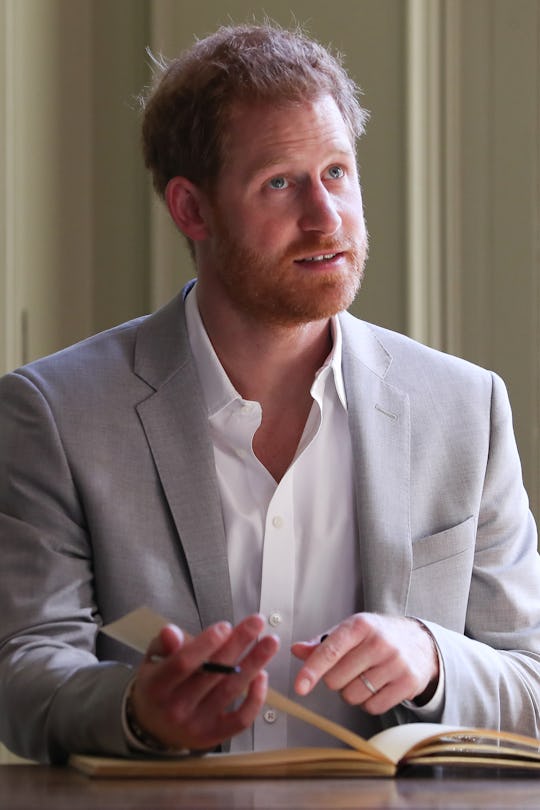 WPA Pool/Getty Images Entertainment/Getty Images
Prince Harry Has Been Talking About Kids For A Long Time
During their engagement interview, Prince Harry and Meghan Markle famously answered the question about children with the response, "One step at a time. Hopefully we'll start a family in the near future." Well that future has arrived, with the palace announcing Markle's pregnancy via Twitter on Oct. 15. In honor of the special news let's take a minute and review all the times the prince reminded us that could not wait to be a dad. Here are Prince Harry's best quotes about kids.
First off, it's important to know that Prince Harry absolutely adores the children in his life. In an interview with Daily Mail he was asked his feelings about being moved to then fifth, now sixth, in line for the throne behind his brother's children. "The reason I am now fifth is because of my nephew and niece and I could never wish them away. They are the most amazing things ever," he told the paper. That attitude that puts young people first will go a long way in his new role as a dad, when his little one will absolutely take over his world.
And he wants his kids to have a normal life. In a 2017 interview with Newsweek he talked about the ways he's worked to create normalcy for himself, and how he hopes to continue that for his offspring:
"My mother took a huge part in showing me an ordinary life, including taking me and my brother to see homeless people. Thank goodness I'm not completely cut off from reality. People would be amazed by the ordinary life William and I live. I do my own shopping. Sometimes, when I come away from the meat counter in my local supermarket, I worry someone will snap me with their phone. But I am determined to have a relatively normal life, and if I am lucky enough to have children, they can have one too."
He's thought long and hard about this too, according to the New York Daily News. He told Katie Couric in 2012, (when some still considered him a partying prince):
"I've longed for kids since I was very, very young. I'm waiting to find the right person and someone who's willing to take on the job."
That person – who we now know is Markle – has always been of utmost importance to him. The Telegraph reported that during a 2015 tour of New Zealand he told Sky News that, while he could hardly wait to be a dad, he really wanted someone to share the experience with:
"I don't think you can force these things, you know, it will happen when it's gonna' happen. Of course I would love to have kids right now but, there's a process that one has to go through. And you know, tours like this is great fun. Hopefully I'm doing alright by myself, it would be great to have someone else next to me to sort of share the pressure but, you know, the time will come. Whatever happens happens, I guess."
Just a year later he spoke on the matter again, this time to ABC's Robin Roberts who asked him about his repeated comments about kids and his role as an uncle:
"You've got to have fun in life. […] I hope that I'm a fun uncle." When asked if he thinks about having them himself he replied, "I can't wait for the day. So, you know, it will be fantastic. […] I've got a kid inside of me. I want to keep that. I adore kids. I enjoy everything that they bring to the party. They just say what they think."
The Prince told People that he considers children an "upgrade of us," and that he sees in them the hope for the future:
"All the amazing things that are going to happen in the future, it's all going to be them. I never want to lose touch with that generation," he said. But, in an uncharacteristic moment he did admit to occasional doubts.
"There have been moments through life, especially when we do a tour abroad, when I think, 'I'd love to have kids now.' ... And then there are other times when I bury my head in the sand going, 'All right, don't need kids!' There's no rush. I think ... I tell you what: There's been times I've been put off having children," Harry added.
He's been practicing at least some of his parenting philosophy on those children, for which several he fills the role of godfather. When British personality Bryony Gordon hosted the Prince on her Mad World podcast, she asked him if he is a really great godfather. He replied:
"I'd like to think so. I think the key to that is to grow up, but also be able to stay in touch with your childish side. If that means going to someone's house and playing PlayStation and kicking the a** of their son on Counter-Strike or Halo or whatever it is then I'll try and do that. But I, of course, I would love to have kids."
And now it's almost time! Mark 2018 as a banner year for the prince. A year when not just one, but two of his dreams came true.