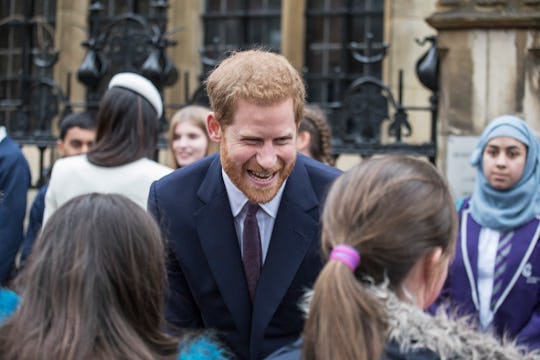 WPA Pool/Getty Images Entertainment/Getty Images
6 Sweet Prince Harry Quotes About His Royal Niece & Nephews
Prince George turns 5 this coming Sunday, which means Prince Harry, Duke of Sussex, has been an uncle for almost exactly five years. In honor of that milestone (and while fans eagerly await an announcement from him and the Duchess of Sussex, Meghan Markle, that they're starting a family), now seems like the right time to reminisce over some of Prince Harry's best quotes about the royal kids, also known as Prince George, Princess Charlotte, and Prince Louis of Cambridge.
In an interview after announcing their engagement this past November, Prince Harry and Meghan shared how they felt about having kids in the near future. When asked if they planned to start a family, Harry replied, "Of course. You know, one step at a time. Hopefully we'll start a family in the near future," InStyle reported.
It's clear that Prince Harry has gotten plenty of practice caring for children with his niece and nephews — and there's no doubt that Prince George and Princess Charlotte (and maybe even Prince Louis, already!) are big fans of their uncle. In photos from his royal wedding to Meghan, bridesmaid Princess Charlotte and page boy Prince George beamed in portraits of the bridal party, warmly welcoming Meghan to the family.
All that being said, here are six times Prince Harry has spoken about his royal nieces and nephews.
1. When He First Met Prince George
Only five days after Prince George's birth, Prince Harry had already gotten a snuggle with the new heir to the throne. He told the BBC at the time that it was "fantastic to have another addition to the family." He also joked that Prince George "was crying his eyes out" at their meeting. Nice dad joke, Uncle Harry.
2. When He Shared His Mission As An Uncle
He also told the BBC what his mission would be as an uncle. "To make sure he has a good upbringing, and keep him out of harm's way and to make sure he has fun," he said, according to the BBC. "The rest I'll leave to the parents."
3. When He Encouraged Prince George & Princess Charlotte To Follow In He & Prince William's Footsteps
Prince Harry also spoke to the press shortly after Princess Charlotte was born. According to the Mirror, Prince Harry said in a TV interview in May 2015:
I would definitely encourage George, and Charlotte if she wants to, to have some sort of involvement in the Armed Forces, guaranteed. And I know that William and Catherine would probably echo that as well, depending on the situation for them in those years to come ... It's done no harm, just good, for me, and I know it's the same for William. It's hard to say anything else on that because, as a parent, it's your choice.
4. When He Gave Advice About Growing Up Royal
In the same interview, Prince Harry also advised his niece and nephew to make the best of their unconventional roles as royals. He said, according to the Mirror:
As an uncle, you know, I would say enjoy the role, because at first it's just pressure, pressure, pressure ... Just enjoy it and make the most of it. If you're going to be doing it and you're having an effect on so many people then, if you smile, they're smiling — and what's the point of doing such a unique job without enjoying it?
5. When He Dished On Prince George & Princess Charlotte Knocking Him Down On The Line Of Succession
In June 2017, journalist Angela Levin interviewed Prince Harry, the Daily Mail reported. In the interview, he disclosed that he was not at all upset about losing his spot, because Prince George and Princess Charlotte are so great. He reportedly said:
The reason I am now fifth is because of my nephew and niece and I could never wish them away ... They are the most amazing things ever.
6. When He Revealed How He Wants His Niece & Nephews To View Him
In May 2016, Prince Harry was the subject of a People cover story. According to the Daily Mail, he said:
George and Charlotte will grow up and hopefully find me to be the fun uncle. I always want to be the fun uncle.
It's very apparent that Prince Harry loves being an uncle, and it will be so exciting to see him use his "fun uncle" skills when he eventually becomes a father to kids of his own.