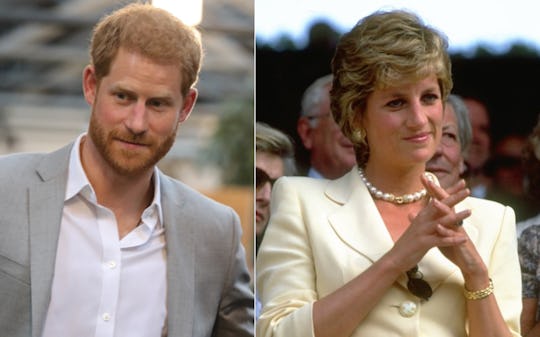 Pool/Getty Images Entertainment/Getty Images/ Clive Brunskill/Getty Images Sport/Getty Images
How Prince Harry Carried On Princess Diana's Mission As A Royal On His Latest Trip
Since Princess Diana of Wales' death in 1997, her sons, Prince William and Prince Harry, have worked hard to keep her legacy alive, working with charities and causes that their mother believed in. And now, a little more than 20 years later, Prince Harry has excelled in doing just that — and did so while visiting Amsterdam on Monday. In fact, Prince Harry's trip to Amsterdam carries on this important piece of Princess Diana's mission as a royal, clearing paying homage to his late mother.
Prince Harry made the trip to Amsterdam on Monday, according to People, to attend the International AIDS Conference. During his first day of the trip, Prince Harry met with "young advocates" to talk about AIDS advocacy and spoke about the importance of involving young people to help fight the cause. "We have to put the power into the hands of the younger generation, because that's where the solutions are going to come from," Prince Harry said, according to People. "That's where the inspiration comes from as well."
Prince Harry isn't only an activist because it's a cause he cares about (which he does), but it's a cause his mom fought for, too, according to the BBC.
Prince Harry continued on about the importance of young people, saying, according to People:
There is a generational gap — there is a generational gap in pretty much every problem we have at the moment — but the younger generation not only have solutions but have the capability to be able to solve these problems in a much shorter period.
It's evident that advocating for HIV and AIDS awareness doesn't skip a generation, either. Indeed, HIV and AIDS awareness was a cause that was very close Princess Diana's heart, according to the BBC. In the mid-1980s, according to the BBC, there was a huge stigma attached to HIV and AIDS due to a lack of knowledge and general misunderstanding. But, by meeting with doctors, patients, and speaking up about the cause, Princess Diana helped end that stigma, as the BBC reported. In 1987, Princess Diana opened up the United Kingdom's first HIV/AIDS unit inside of a London hospital, according to Express. And in 1991, when Princess Diana shook the hand of an AIDS patient without wearing gloves, as INSIDER reported, her actions, and the message behind them, spoke volumes.
"HIV does not make people dangerous to know," Princess Diana said at the time, according to PopSugar. "You can shake their hands and give them a hug. Heaven knows they need it."
Because Princess Diana's actions were deemed so important to how the whole entire world, not just people in the United Kingdom, viewed AIDS, according to The Guardian, it would make sense why Prince Harry would want to adopt his mother's cause. In 2006, Prince Harry set up the charity, Sentebale, according to PopSugar, which "supports orphans and children affected by the epidemic" and has launched campaigns year after year to raise awareness about HIV and AIDS. In 2016, Prince Harry and singer, Rhianna, both got tested for HIV on camera, according to the BBC, showing people that there is nothing to be afraid of and advocating that they get tested themselves.
And after Prince Harry got engaged to his wife, Meghan Markle, last year, the two of them let it be known that they were going to continue to carry on Princess Diana's legacy through the causes they advocate for, according to Newsweek — and made this clear by meeting with an HIV positive woman during their first official royal engagement as a couple, according to the BBC.
Prince Harry's appearance in Amsterdam at the International AIDS Conference only further proves how dedicated and devoted he is to remembering his mother in the best way possible — by helping others.