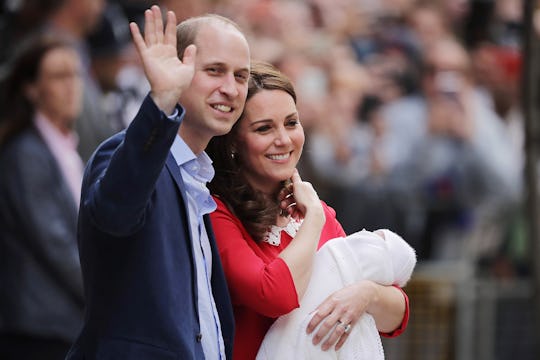 Dan Kitwood/Getty Images Entertainment/Getty Images
Prince Louis' Birth Certificate Is Out, & His Legal Name Is A Definitely Mouthful
On Monday, the newest member of the royal family turned 1 week old. Time flies, right? Prince Louis — who was born on April 23 and introduced to the world just seven hours later on the steps of St. Mary's Hospital in London — will be trying to keep up with his older siblings before we know it! On Tuesday morning, Us Weekly reported yet another big milestone was reached. That's because Prince Louis' birth certificate is out, and his legal name is definitely a mouthful. In the "name and surname" space, it reads: "The His Royal Highness Prince Louis Arthur Charles of Cambridge." (I mean, can you imagine having to fill that out on a bubble letter form?)
Aside from the sheer length of his name — which we already knew in advance, actually — anther notable detail about Prince Louis' birth certificate is his parents' occupation. Which, to be fair, everyone is also highly aware of. The birth certificate lists William's occupation as "Prince of the United Kingdom" and Kate as "Princess of the United Kingdom," which is the same for Prince George's and Princess Charlottes's birth certificates, People reported. But for the parents' occupations, how many birth certificates read, "Prince" and "Princess" of well, anything. (Would "Princess of Re-heating Coffee While Wrangling Kids" be a valid occupation for me? Hmmm.) So yeah, it's a pretty unique detail, that's for sure.
As you can see, Prince William signed the document on Tuesday, and it was witnessed by Westminster City Council registrar Patricia Gordon. Us Weekly reported that Gordon said the following in a statement about the occasion:
It has been a great honor to register and formally welcome the latest addition to the royal family, Prince Louis Arthur Charles. This follows a long history of Westminster City Council registering royal bites including Prince Louis' siblings Prince George and Princess Charlotte.
For the record, Prince Louis' birth certificate was released just one day before his big sister's third birthday — something I'm guessing was done on purpose, as to not overshadow Princess Charlotte's big day. (Good move, mom and dad.) It's worth noting, too, that there is one tiny detail that's a little different about the newest royal baby's birth certificate when compared to Prince George's and Prince Charlotte's, Town & Country Magazine reported: Prince Louis' official document is typed out, and his siblings' are both handwritten.
Now that Prince Louis' birth certificate is out there for the world to see, the next "big thing" fans will be watching out for is the release of his first official portrait. OK! Magazine speculated that this should be happening about a month after his arrival — so sometime toward the end of May. How did this predication come to be, you ask? It all comes down to the timeline of the first two royal babies. See, Prince George was born on July 23, 2013, and his first portrait was released on Aug. 19. Which, obviously, was barely shy of his turning 1 month old.
Likewise, Princess Charlotte was born on May 2, 2015, and her first official photo was published on June 6 — just over a month after her birth.
To be fair, we already have a pretty good idea of Prince Louis' cuteness level, People reported. That's because hoards of photographers captured the newborn at every possible angle when the Duke and Duchess of Cambridge introduced their third child outside the private Lindo Wing.
When Prince William and Kate Middleton re-emerged from St. Mary's Hospital to take their baby boy home to Kensington Palace, fans were able to get an even better look at Prince Louis, The Telegraph reported. As you can see, he was tucked in cozily in his car seat, and OMG, my ovaries.
After Prince Louis' first portrait is released, the next royal baby tradition to watch out for would be photos from Prince Louis' christening — during which he'll likely don the same traditional gown worn by his siblings, The Sun reported.
Needless to say, I can't wait to see more of/hear more about the newest little prince. Although releasing Prince Louis' birth certificate is just a formality, there's something undeniably cool about gazing upon the official document of a member of the royal family.