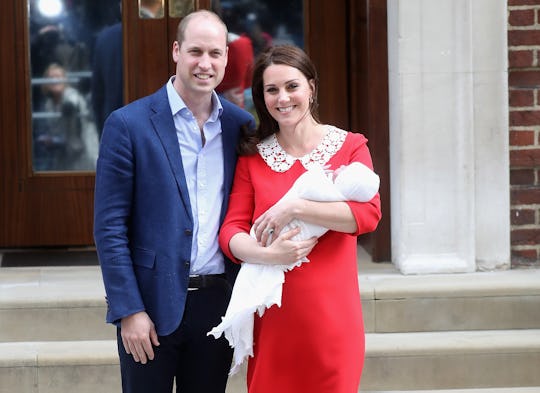 Chris Jackson/Getty Images Entertainment/Getty Images
The Royal Family Announced Prince Louis' Official Christening Date, So Get Excited
It's been a big year for the royals — a new royal baby, a massive royal wedding — but while youngsters Prince George and Princess Charlotte have been stealing all our hearts during their various public appearances, there's one little royal who we're still waiting to see: Prince Louis. The infant has been absent from recent royal engagements, but it might not be long until we see him again. That's because Prince Louis' christening date was just announced, and the good news is that it's coming up soon.
Kensington Palace confirmed Wednesday that the prince will be christened on July 9 at The Chapel Royal at St James's Palace in London. In addition to being the same church where big brother Prince George had his christening in 2013, it's also where Meghan, the Duchess of Sussex, was reportedly formally christened into the Church of England earlier this year, ahead of her wedding to Prince Harry (Catherine, the Duchess of Cambridge was similarly confirmed into the Church of England in a private service at St. James's Palace ahead of her 2011 wedding, according to People). The only outlier? Princess Charlotte, whose 2015 christening actually took place at the St. Mary Magdalene church at Sandringham in Norfolk, in a touching nod to her late grandmother, Princess Diana, who was also christened there.
Though Prince Louis' christening was only just announced, the timing isn't much of a surprise: Prince Louis will be just over two months old at the service, which is similar to when his siblings made their second official public appearance after their births. Prince George was three months old at the time of his October christening attended by 22 guests, including his seven godparents, according to The Sun, while Princess Charlotte was two months old when she arrived at her 30-person christening in her Silver Cross pram, according to Hello! — with Prince George at her side.
So what can we expect from Prince Louis' big day? For one, there'll be some new formal portraits taken. One day after Prince George's christening, Kensington Palace released four photos taken by photographer Jason Bell in the Morning Room at Clarence House, according to E! News, featuring the young prince with his parents, along with his extended family on both sides, including his great-grandmother, Queen Elizabeth II. Two years later, Kensington Palace released similar photos from Princess Charlotte's christening, taken by photographer Mario Testino.
In fact, Prince Louis' christening portraits will likely be the first new photos of the prince released since Kensington Palace released some adorable photos of the newborn prince and his sister — taken by the Duchess of Cambridge — in May. And it will also likely be the first time the entire family of five will be spotted out in public.
Prince Louis' christening will also mean royal fans will get another opportunity to see his aunt, Pippa Middleton, who is currently pregnant with her first child with husband James Matthews, though unclear if the prince's other famous aunt, the Duchess of Sussex, will be in attendance. Although Prince Harry was included in the formal family portrait at Prince George's christening, he didn't actually attend Princess Charlotte's, according to Hello! (he was in Namibia at the time to focus on wildlife conservation).
This time around though, it seems likely that the prince and his new bride will both make an appearance at the family service — which will be conducted by the Archbishop of Canterbury, the Most Reverend Justin Welby, who also officiated at the their wedding earlier this year. But royal watchers aren't expecting Meghan to be given the coveted role of godmother, even though she's family: according to The Express, that's usually a honor given to someone the Duke and Duchess "have been close to for years."
Either way, it will definitely be exciting to see Prince Louis once again, and especially exciting to see him alongside all of his family members. And who knows — while Meghan is still so new to the royal family, she already seems to be fitting right in, and seems close Kate and William. Maybe a godmother role could be in her future, after all.