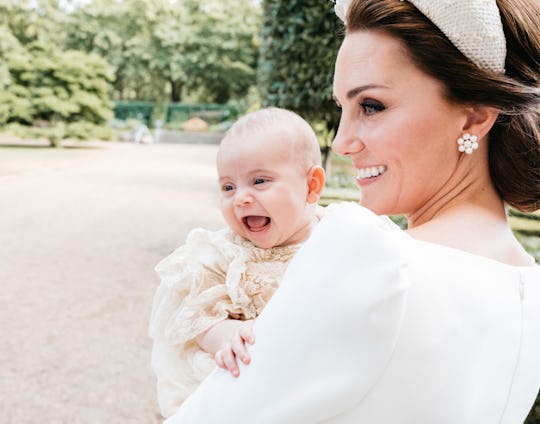 Handout/Getty Images Entertainment/Getty Images
Here's How Prince Louis' Christening Differed From His Siblings'
The long and painful wait for more photos of Prince Louis is over. Following his christening, additional pictures were released and they're just as adorable as you may have expected. While the royal christening is a well-established tradition, the latest edition had a few variations. Prince Louis' christening vs. Prince George and Princess Charlotte's shows that sometimes details have to change.
Prince Louis was born on April 23 and is the third and youngest child of Prince William and Duchess Catherine Middleton. Royal babies are generally christened two to three months after making their arrival and little Louis had his christening ceremony on July 9. As The Telegraph reported, royal christenings are steeped in tradition. Much of the ceremony involves heirlooms passed down through the generations, such as the Lily Font and bowl set that has been used since 1841. Additionally, the water used in the ceremony comes from the Jordan River. Aside from royal specifications, the day involves the recitation of typical christening bible verses and singing of hymns.
Louis' christening followed much of the same routine as his brother's and sister's, with a few variations. Let's take a look at how the littlest prince's ceremony compared to those of his siblings.
The Guest List
Due to travel, marriage, and other obligations, the family members that attended each christening varied. Due to a trip to Africa for an ongoing conservation effort, Prince Harry was unable to attend Princess Charlotte's christening in July 2015, according to The Telegraph. But he was able to make it to both George and Louis'. But at Louis', the prince brought a very special plus-one. Now that he and Meghan Markle have tied the knot, she is privy to all of the big family events — including Louis' christening.
Absent at the big day was Her Majesty The Queen and Prince Phillip. The two were taken away by previous engagements, according to The Express, and were not absent due to health reasons.
The Date & Time
Prince Louis was christened at The Chapel Royal at St. James's Palace in London like his brother George, but Princess Charlotte was christened at the same location as Princess Diana: St. Mary Magdalene Church, a 16th-century chapel in Sandringham, Norfolk, according to Harper's Bazaar. Additionally, Louis was baptized on a Monday while Charlotte's was on a Sunday and George's on a Wednesday.
The Photos
The long-awaited official portraits from Louis' christening look a lot like those of George and Charlotte's. However, the Duke and Duchess of Cambridge chose a different photographer and location for each child's photos, according to E! News.
While Prince George's christening photos were taken by Jason Bell on October 23, 2013 in the Morning Room at Clarence House, Mario Testino photographed Princess Charlotte and family on July 5, 2015 at Sandringham House, the Queen's country retreat. As for Prince Louis, his christening photographer was Matt Holyoak at Clarence House, according to the Kensington Royal Instagram page.
The Outfit
The beautiful gown that Louis donned for his christening has a long history. According to Good Housekeeping, his gown is the same hand-made replica of the royal family's christening robe that was made by Queen Elizabeth II's dressmaker, Angela Kelly. Both George and Charlotte wore the replica gown, as was the Queen's grandson James Viscount Severn.
A total of 62 royal infants wore the original gown before a replica was made in 2004, as Good Housekeeping reported, including Louis' dad, Prince William, and his uncle, Prince Harry.
Each and every christening is an exciting event in its own right, but a strong thread of tradition connects them all throughout the years. What a wonderful connection to have!