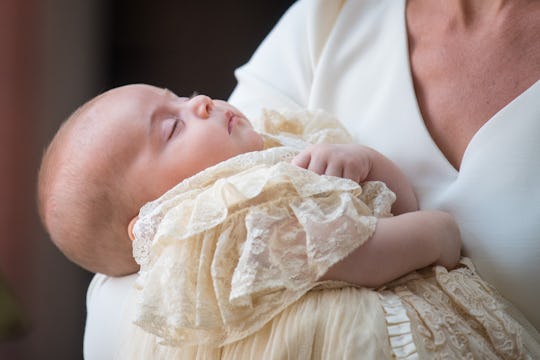 WPA Pool/Getty Images Entertainment/Getty Images
Prince Louis Is A Mini Kate Middleton In This Adorable Side-By-Side Photo
The Duchess of Cambridge gave birth to her third child, Prince Louis, in April. And ever since the high-profile birth, supporters have been itching for more family photos featuring the little guy. But what's even better than new family pic? This precious side-by-side of Kate Middleton as a baby and Prince Louis. The resemblance is uncanny, to say the least.
If you're a fan of the royal family, then you probably saw a lot of chatter about how 7-month-old Prince Louis resembles his older brother, 5-year-old Prince George. The similarity came to light after the royal family released new photos commemorating Prince Charles' 70th birthday. Considering there aren't many photos of the little guy out there (the family does value their privacy, after all), it's no wonder why so many decided to compare the brothers to one another.
But if you thought Prince George and Prince Louis look alike, then you'll be astonished by this new side-by-side featuring Middleton and the infant.
The snap of Middleton is from 1982, and it shows her sitting in her "pram," according to the Daily Mail. As for the Duchess of Cambridge's expression? She's sporting the most precious pout ever. Talk about a cute baby.
Although it's expected that parents will resemble their kids, this side-by-side is especially notable due to Middleton and Prince Louis' shared expressions. Both royals share the same pout, eyes, and hairline. It's all so sweet.
"Prince Louis looks like him mum," someone on Twitter wrote about the resemblance.
"Technically Prince Louis looks exactly like Duchess Kate," someone said.
"Wow...Prince Louis looks a LOT like his mother's baby photos. Gorgeous shots of the family," another commenter wrote.
Looks aside, I'm particularly curious about how Prince Louis' personality matches up with his mom. All we know so far about the little guy is that he's a good sleeper.
"Sleeping's going reasonably well so far," the Duke of Cambridge shared shortly after the baby's birth, according to Harper's Bazaar. "So, he's behaving himself, which is good."
Middleton also described Prince Louis as "very relaxed and peaceful" to the Archbishop of Canterbury during his christening, according to The Sun.
Of course, no child is destined to mimic their parents' personalities, even if they happen to look alike. And I imagine it must be frustrating for celebrity kids who are constantly compared to their famous parents. Actor Ryan Phillippe touched on this phenomenon before, revealing that he doesn't appreciate when people compare his daughter, Ava Phillippe, to Reese Witherspoon (it happens a lot).
"I feel like saying, 'She has her own face,'" he said about the fan chatter, according to ET Online. "Let her have her own face, you know?"
It's important to note, however, that fans probably don't mean any harm when they make these comparisons. It can be fun to examine side-by-sides of famous people and their kids, especially when babies are involved.
No matter where you fall on the who Prince Louis looks like debate, I think most people can agree the baby is adorable. Way to make cute kiddos, Prince William and Middleton.