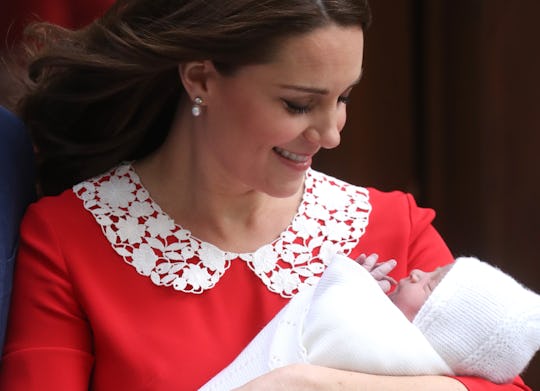 Chris Jackson/Getty Images Entertainment/Getty Images
Um, Prince Louis Is Practicing His Royal Wave & Who Told Him To Grow Up So Fast!?
The members of the royal family are good at a lot of things. They're good at following royal protocol, making appearances, and having everyone obsess over their actions. But there is one thing that they're pretty fantastic at doing — waving. The royal wave is one thing that the royal family has down pat, and is something that the smallest royals are already perfecting. Kate Middleton reportedly told one well wisher that Prince Louis is already working on his royal wave, proving that waving runs in the family.
There is only so much that people know about Middleton and Prince William's three young children — Prince George, Princess Charlotte, and Prince Louis. The only things that the public knows about them and their sweet personalities is only based on what the parents have said about them in speeches or in passing. Luckily, Middleton and Prince William aren't shy about sharing these kinds of details with well wishers.
During a recent royal appearance in Cyprus earlier this week, Middleton Prince William, met with well wishers who wanted to know all about their kids (of course). Luckily, Middleton was on hand to answer all of their questions (thank goodness). After chatting with one well wisher with a 10-month-old child, according to the Daily Mail reporter, Rebecca English, Middleton reportedly told the woman that Prince Louis is "starting to wave."
OMG, can you picture anything cuter?
Rest assured that Prince Louis has plenty of people to teach him how to wave — most notably his big sister, 3-year-old Princess Charlotte. During every single royal appearance she has made, Princess Charlotte has proven to be terrific at waving to the crowd, according to Cosmopolitan. From the time she was just a year old, Princess Charlotte was already waving, and hasn't stopped. Over the course of the past two years since she first started waving to the crowd, Princess Charlotte's confidence has made her stand out from the other royals her age. And this year, she proved that waving is her secret weapon. From the time she waved at the crowds waiting to get a glimpse of Prince Louis in April, to waving at well wishers at Prince Harry and Meghan Markle's wedding in May, Princess Charlotte won everyone over with her wave. Needless to say, if there is anyone to teach Prince Louis how to wave, it would be his older sister.
But Princess Charlotte had to learn from the best, first, and she had the perfect teacher to teach her how to wave — her grandmother, Queen Elizabeth II, also known as the Queen of the United Kingdom. In June, Princess Charlotte was caught imitating the Queen's well practiced wave, according to Hello!, and she did such an amazing job at it. She definitely is following in her Gan-Gan's footsteps.
Contrary to popular belief, there is a difference between a royal wave and a normal wave, according to ABC News. The royal wave is representative of class, elegance, and character, so it's pretty special, not to mention it's kind of hard to duplicate (unless you're Princess Charlotte). Royal expert Victoria Arbiter told ABC News:
You can recognize a royal wave immediately. It's a vertical hand with a slight twist from the wrist, a classy affair that oozes decorum but doesn't get too excitable.
The Queen is so known for her wave that she was even gifted a fake hand to help her wave whenever she gets tired, according to Harper's Bazaar. Given that she makes around 420 royal appearances a year, according to ABC News, she has had plenty of time to perfect her wave (and likely needs that fake hand for some much needed relief).
People will see Prince Louis' royal wave soon enough. But until then, he will be practicing in time for his big debut (whenever that may be).
This first-time mom wants to have a home birth, but is she ready? Watch how a doula supports a military mom who's determined to have a home birth in Episode One of Romper's Doula Diaries, Season Two, below. Visit Bustle Digital Group's YouTube page for the next three episodes, launching Mondays in December.