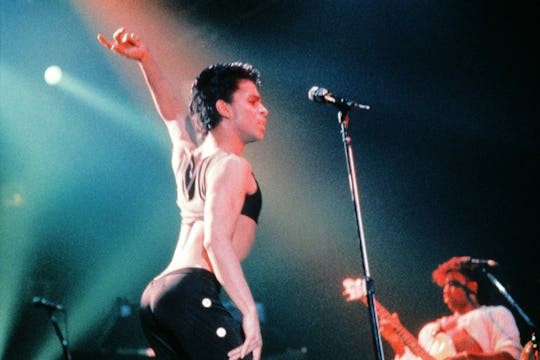 PASCAL GEORGE/AFP/Getty Images
Prince Lyrics About Love, Friendship, & Getting Down
This morning, the sad news rang out that Prince had died in his home, Paisley Park, in Chanhassen, Minnesota. He was one of the the world's most beloved rock-pop icons and innovators. In a statement, President Barack Obama expressed his sadness for the loss, saying "nobody's spirit was stronger, bolder, or more creative." Prince excelled at musical experimentation and shapeshifting, but he was also a skilled lyricist with a flare for surprising similes and vivid images. As a way to honor him, here is a selection of Prince lyrics about love, friendship, and getting down.
Since the announcement from the Sheriff's Office this morning, hundreds of fans have descended on Prince's home and the Minneapolis club where "Purple Rain" was filmed. According to ABC News, fans have left bouquets, candles, and other mementos at the club, while connecting about what Prince, and his musical legacy, means to them.
The music he wrote for that film (which he also starred in) won Prince an Academy Award in 1985. He would go on to win a Golden Globe, a BET Award, and two Grammys. He was a prolific musician and collaborator, working with a variety of artists with a variety of sounds, from Sheena Easton, to Stevie Nicks, to Madonna, to Patti LaBelle, to Chaka Khan, to Cyndi Lauper. He had a challenging and inspiring career. His lyrics are a great reminder of his artistry, his wisdom, and his humor, through it all.
"A body like yours oughta be in jail / 'Cause it's on the verge of being obscene"
You know what's obscene? How amazing Prince was at doing the splits. This lyric is from "Little Red Corvette," which came out in 1982 — the peak of Prince's popularity. It falls somewhere in between being in love and getting it on, which isn't a bad place to be.
"Whenever I feel like givin' up / Whenever my sunshine turns to rain / Whenever my hopes and dreams / Are aimed in the wrong direction / She's always there"
This is from Prince's 1985 hit, "She's Always In My Hair." The song is about getting down as much as any other Prince song, but it also has some pretty sweet moments, like this one here, about being a supportive lover and collaborator. Prince definitely knew a thing or two about that.
"If I gave you diamonds and pearls / Would you be a happy boy or a girl / If I could I would give you the world / But all I can do is just offer you my love"
So true, Prince. By the end of his career, Prince had fame, diamonds, pearls, and a lot more, but he was still a believer in the the power of love, above all else, in uniting people. Even hidden in this 1991 song, "Diamonds and Pearls," is some bonafide Prince wisdom.
"Take me baby, kiss me all over / Play with my love / Bring out what's been in me for far too long"
This is from a Prince song poetically called, "Do Me, Baby." It came out back in 1981 and most likely contributed to the spike in births that came to be known as Generation X. Prince's songs have the ability to awaken the sexy beasts hidden in everyone.
"Dearly Beloved / We are gathered here today / To get through this thing called life"
This iconic line is from Prince's legendary song, "Let's Go Crazy." It manages to be both dark and joyous, mourning and celebrating, just like today. It unifies listeners in the struggle of living and encourages them to dance it out. Dancing doesn't solve all problems, but Prince would probably agree that it solves most.
Prince's death is a tragedy, but he left behind a long legacy, and so much of himself, in his lyrics. He was a gifted entertainer who inspired a generation of musicians and who gave fans what they didn't even know they wanted to hear.