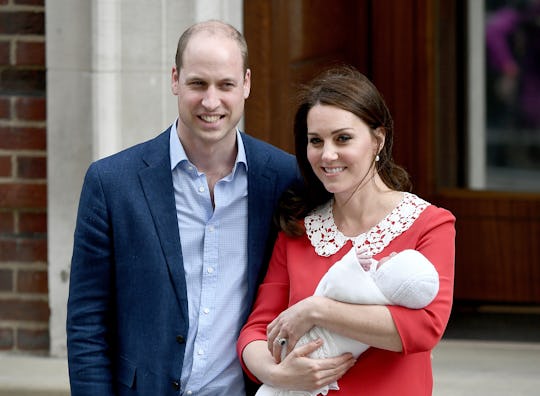 Gareth Cattermole/Getty Images Entertainment/Getty Images
Prince William "Copied" A Childhood Photo Of Kate Middleton, & It's So Sweet
You know that photo of the Duchess of Sussex visiting Buckingham Palace as a teenager, back when she was known as Meghan Markle and two decades before she married Prince Harry, Duke of Sussex? Well, the Duke and Duchess of Cambridge just had a similar moment. On a recent trip to Jordan, Prince William copied a childhood photo of Kate Middleton — and it's so touching.
Prince William is currently on an official royal visit to the Middle East, on behalf of his grandmother. From Sunday through Thursday this week, the Duke is visiting Jordan, Israel, and the Occupied Palestinian Territories, marking his first visit to the area, according to the official royal website. He kicked off the tour in Jerash, a city in Jordan.
As it just so happens, Kate and her family spent several years living in Jordan when she was a child. They moved there in May 1984, when Kate was 2 years old, and they returned to England in September 1986, The Telegraph reported. One of the few childhood photos of Kate on the internet was taken at an archaeological site in Jordan when the Duchess was 4 years old. So naturally, Prince William posed for a photo in front of the same spot, 32 years later.
In the 1986 photo, Kate posed with her younger sister Pippa Middleton and their dad. Kensington Palace tweeted the two photos side by side, captioned: "The Duke of Cambridge visits Jerash, the same site that The Duchess of Cambridge visited, aged 4, with her sister and father when the family lived in Jordan."
William posed solo in his photo — and it's clear that the photo recreation attempt was planned in advance. In a Daily Mail video of Prince William near the site, a poster-sized copy of Kate's family photo is displayed on an easel. Given their dedication to recalling the throwback moment, it's a bit of bummer Prince William didn't at least attempt to recreate Kate's pose.
Furthermore, Kate is reportedly a bit bummed herself that she could not join her husband on the trip. While at the site in Jerash, Prince William said that Kate loved Jordan, and was upset not to be there, the Daily Mail reported. William said:
She loved it here, she really did. She is very upset that I am coming here without her.
He also shared why Kate was not able to come along on the trip, Express reported. During his trip to Jordan, William also visited the country's capital, Amman, where he attended a reception at the British ambassador to Jordan's home, the outlet reported. At the reception, Prince William told guests:
My wife Catherine is very sorry she cannot be here with me so soon after the birth of our son Louis, but her family remembers very fondly the almost three years she spent here as a child when her father worked for British Airways in Amman. Catherine's experience is not unique. The interchange between our two countries is real and deep: work, study, tourism and family links. Our historic ties and friendship are played out in the lives of thousands of people who consider both countries home."
However, it wouldn't be a surprise if the whole family of five returns to Jordan once Kate's maternity leave is over (and once Prince Louis is a bit older!). At the archaeological site, Prince William told photographers, "We'll have to bring the kids next time," the Daily Mail reported.
It's clear that Kate's time in Jordan meant a lot to her, and hopefully she will get to visit the country she once called home at some point in the future.