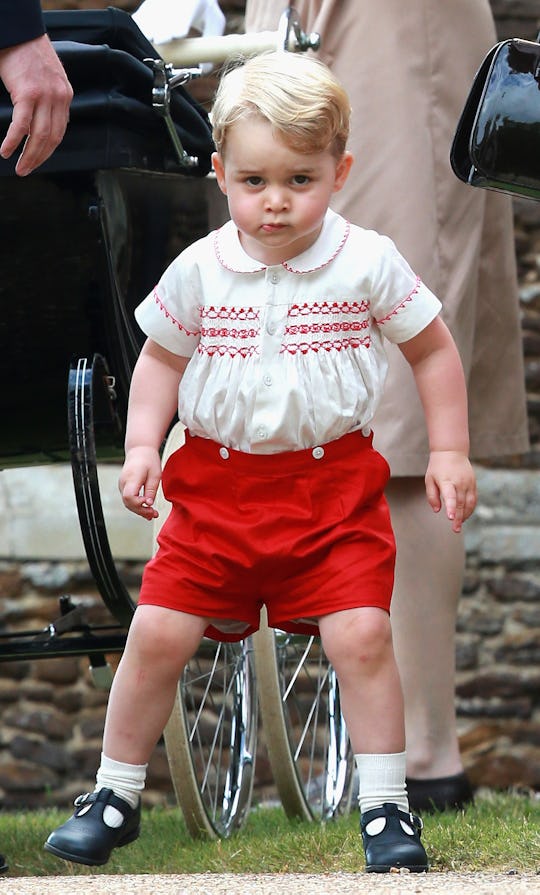 Chris Jackson/Getty Images Entertainment/Getty Images
Sounds Like Prince George's Obsession With Dinosaurs Is Getting A Wee Bit Out Of Hand
Although many people might assume Prince William and Kate Middleton's kiddos (Prince George, 5, Princess Charlotte, 3, and Prince Louis, 4-months) are different than most kids out there given their royal background, they enjoy common childhood interests. Prince George, for instance, is particularly fascinated by dinosaurs, a very popular subject for his age group. And if your kid shares this fixation, you'll probably relate to Prince William's comment about Prince George's "obsession" with dinosaurs.
While the Duke and Duchess of Cambridge's tend to guard their children's privacy, they aren't opposed to dishing about their lives in appropriate situations. Case in point: During a trip to the Acorns Hospice center in Birmingham, England, as Hello! Magazine reported, Prince William shared a sweet tidbit about Prince George's obsession with dinosaurs when he noticed a child holding a toy triceratops.
"Is that a triceratops?" the Duke of Cambridge asked, before adding, according to MSN: "George is obsessed with dinosaurs so we're learning all about them."
If you've ever been in the presence of a young dinosaur fanatic (I definitely have), you probably picked up on Prince William's note that his family is "learning all about" the creatures. When kids are excited about something — no matter what it might be — they love educating you about it to no end. Although this phenomenon is mostly cute, it can get out of hand real quick. Before you know it, you're talking about dinosaurs from dawn until bedtime without any end in sight. Stay strong, Prince William.
This isn't the first time Prince William has opened up about Prince George's dinosaur kick. During a conversation with a young patient at the Royal Marsden Hospital, the Duke of Cambridge admitted that Prince George is all about stickers and dinos. "George likes doing his stickers. He is big into his stickers," Prince William said while the patient glued stickers to a piece of a paper, according to Hello! Magazine. "He likes dinosaurs."
But wait — stickers and dinosaurs aren't the only topics to captivate Prince George's attention throughout the years. The little guy also has a thing for the British television show, Fireman Sam. Prince George is so smitten with the show, in fact, that he gets annoyed when his parents don't pay close attention to the series' characters.
"Fireman Sam has taken an awful lot of interest. Some of them are really good but you have to pretend you're really interested because George gets very upset if you're not showing due diligence to the characters," Prince William shared in a radio interview with the BBC Radio 1, according to CafeMom.
Ha! Raise your hand if you can relate to the Duke and Duchess of Cambridge's plight, parents.
Although Prince William and Middleton might be a bit tired of their son's obsessions, the public finds them charming, especially where it concerns dinosaurs.
"Prince George's obsession of dinosaurs is really charming," one fan wrote on Twitter.
Another commenter tweeted: "OMG Prince George loves dinosaurs!!! How amazing #RossGellerEatYourHeartOut."
"Prince George has entered his dinosaur phase," someone else joked.
But Prince George's affinity for dinosaurs is more than just a cute phase — some experts might argue it's an important confidence booster. Paleontologist Kenneth Lacovara explained to CNN on the topic of kids who are obsessed with dinosaurs:
I think for many of these children, that's their first taste of mastery, of being an expert in something and having command of something their parent or coach or doctor doesn't know. It makes them feel powerful. Their parent may be able to name three or four dinosaurs and the kid can name 20, and the kid seems like a real authority.
Translation: it's probably a good idea if Prince William tolerates Prince George's obsession for the time being. Although it can get tiring, it likely influences the young royal's life in a positive way.