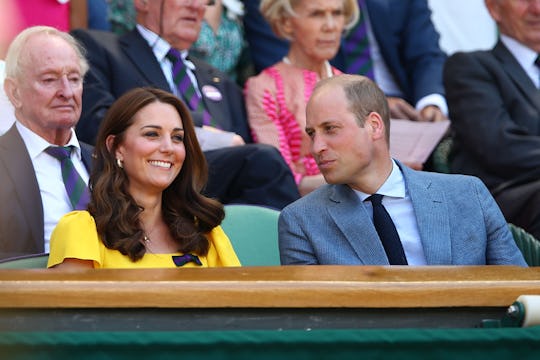 Clive Brunskill/Getty Images Entertainment/Getty Images
Prince William Wants His Kids To Get Into This Sport, But It's Not Going So Well
Royal fans were beyond psyched when Catherine, the Duchess of Cambridge and her new sister-in-law, Meghan, the Duchess of Sussex, teamed up to go watch the Ladies' Singles Final match at Wimbledon Saturday. But while it may have been the first time they've sat together in the Royal Box, it's not exactly surprising that they showed up: both ladies are avid tennis fans, and Kate has long attended Wimbledon on behalf of the royal family. It's also not particularly surprising then, to hear that Prince William and Kate Middleton are trying to get their kids into tennis — though, if their conversation with tennis champ Novak Djokovic is anything to go by, they haven't actually been having a lot of luck so far.
A day after attending Wimbledon with Meghan, Kate returned with her husband to watch Gentlemen's Singles Final, according to People, and seems like they definitely enjoyed their day out. But in a chat with Djokovic following his win, Prince William revealed that he was "trying to get a tennis racket in [his children's] hands," according to Hello!. And it's not the first time the royal couple admitted to pushing the sport: at Wimbledon last year, Kate spoke to retired player Greg Rusedski, and said that although her eldest son, Prince George, has a tennis racket, at this point he only seems interested in "whacking the ball."
In other words, it doesn't quite sound like Prince George is going to be a tennis prodigy. But then again, at nearly 5 years old, it's not even sort of unusual that he's not super invested in taking it seriously. Even if the young prince never ends up showing an affinity for his parents' favorite sport though, it sounds like his sister, Princess Charlotte, might be a different story entirely.
In addition to enjoying tennis as a spectator, the royal couple is said to enjoy playing tennis, and with tennis courts at Amner Hall, their country home in Norfolk, they're certainly able to keep up with that hobby. But since there are no tennis courts at Kensington Palace — their primary residence — the duke and duchess instead reportedly opted to sign the young princess up for tennis lessons at a private tennis club in South West London.
3-year-old Princess Charlotte is said to have begun taking tennis lessons at the extremely swanky Hurlingham Club a year ago, according to The Sun, though some members were said to be bothered by the fact that the duke and duchess aren't actually members. In any case, a source told the outlet that the princess is "a bit of a natural," which was likely pretty great news for her parents — and particularly for Kate, who has previously spoken about her life-long love for the sport.
In addition to being a Wimbledon fixture, the duchess has also been a patron of the Lawn Tennis Association since 2016, according to People, and last year, Kate told BBC News that tennis had been a big part of her life growing up. She said,
I have watched Wimbledon, that was very much part of my growing up. I was really taken by Agassi and Sampras, Ivanisevic and Steffi Graf. Those are my first memories. Roger [Federer] is my mother's heartthrob. I don't think she will mind me saying that! I think he probably knows that too.
With Kate's love of tennis seemingly being a Middleton family affair, it's not all that surprising to hear that the duke and duchess are so keen on having their little ones take up the sport. But, as any parent of young children knows, wanting you child to enjoy a particularly hobby doesn't necessarily mean it will happen. If they do end up adopting a love for tennis though? They will certainly have many years of nabbing the very best seat in the house at Wimbledon ahead of them.