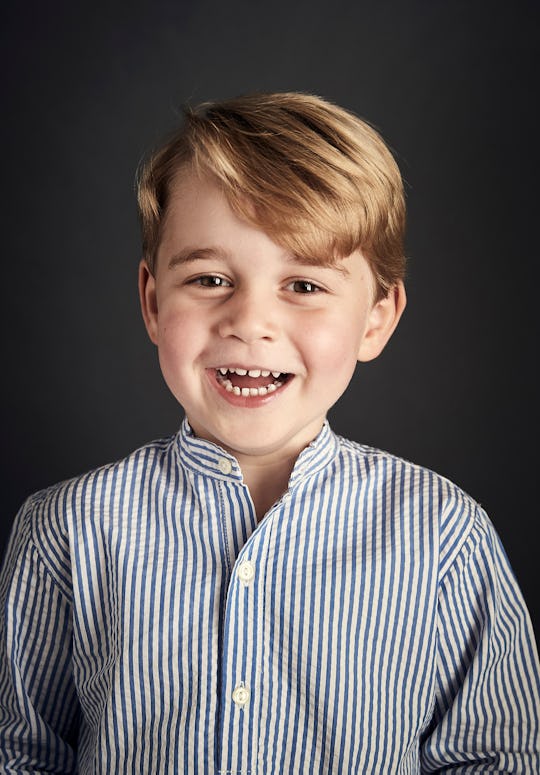 Handout/Getty Images Entertainment/Getty Images
If You Wished Prince George A Happy 5th Birthday, You Might've Gotten This Sweet Note In Return
It may seem that with global attention, the royal family loses track of the amount of support they receive. Prince William and Kate Middleton, however, go the extra mile to let supporters know they're appreciated. Recently, Prince William and Kate Middleton sent the sweetest thank you notes to fans who wished Prince George a happy birthday this past July.
Even before his birth, Prince George was the focus of a lot of media attention. He would be the first child of Prince William, Duke of Cambridge, and Catherine, Duchess of Cambridge, which meant it was a pretty big deal. Prince George's birth back in 2013 catapulted him to third in the line of succession for the British throne, as noted by Town & Country.
It was even speculated that Prince George's birth would serve as a major boost to the economy, as reported by The Telegraph, and a new source of national pride. Before his birth, commemorative coins were issued by the Royal Mint, Royal Canadian Mint, and Royal Australian Mint. It was the first time a royal birth had been marked that way, according to The Times.
Prince George was born on July 22, 2013, as reported by The Guardian. The young prince celebrated his 5th birthday earlier this summer, and recently, fans who wished Prince George happy birthday received a surprise back.
One fan shared a photo of the postcard they had received on Instagram, captioned, "Wonderful postcard from the Cambridges thanking me for sending my birthday wishes to HRH Prince George of Cambridge."
The Instagram photo shows a postcard, and the visible side of the postcard shows Prince George's official fifth birthday portrait (as you can see above), which was taken by photographer Matt Porteous, as reported by Harper's Bazaar. Porteous also took the officials photos at Prince Louis' christening.
The same fan uploaded a second picture, revealing a sweet message.
"Message on the back of the postcard," the fan wrote. The message reads:
The Duke and Duchess of Cambridge thank you for writing as you did to Prince George on the occasion of his fifth birthday. This was most thoughtful of you and greatly appreciated.
The palace is pretty good at showing their appreciation for all fans and well-wishers. Those who greeted Meghan Markle for her 37th birthday in August received a similar thank you note with a photo of the new Duchess, Harper's Bazaar noted.
Royal correspondent Omid Scobie uploaded a picture to Twitter, writing, "A look at the latest 'Thank You' card being sent out by Kensington Palace on behalf of Duchess Meghan to those who wished her a Happy Birthday."
The photo is a cute one of Markle greeting fans, smiling while holding a beautiful bouquet of flowers.
Inside, the letter said, according to Harper's Bazaar:
The Duchess of Sussex is so touched you took the trouble to write as you did on the occasion of her 37th birthday. It really was most thoughtful of you and Her Royal Highness sends you her heartfelt thanks and best wishes.
Prince George's fifth birthday was also celebrated by more than just fans. In honor of his birthday, the Royal Mint released a special £5 silver proof coin. According to its website, only 7,000 versions of the coin are available. A similar coin was issued on Prince George's second birthday.
The coin features a new interpretation of St. George and the dragon. St. George is the patron saint of England, as noted by People. The outlet reported that, according to legend, the dragon lived near St. George's town and would attack locals. So, St. George, a knight, tamed and killed it. The legend of St. George and the dragon has been used on royal coins for centuries, according to the Royal Mint, although it's especially fitting considering Prince George shares the name.
It's hard to believe that Prince George is 5 years old already! It seems like only yesterday that he was born. Fans are definitely thankful for the palace's sweet return gesture and looking forward to watching as Prince George grows!