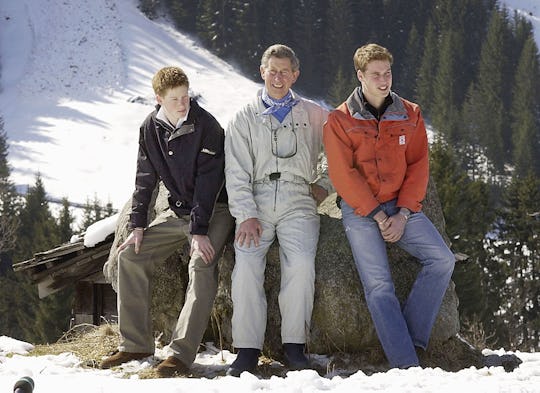 Julian Herbert/Getty Images Entertainment/Getty Images
Prince William & Prince Harry Reveal The Humbling Activity Their Dad Had Them Do On Vacation
Although it can't be easy to grow up in the public eye, being born into the royal family seems like the ultimate dream. You get to live in a palace, attend fancy private schools, and travel the world. And if you're really lucky? Your entire career will consist of cutting ribbons at charity events, shaking hands, and smiling for cameras. But as unique an upbringing as young royals certainly have, it does sounds like their parents do at least attempt to keep them somewhat grounded. Prince William recently revealed that Prince Charles had his sons do this humbling activity on vacation when they were children, according to The Telegraph, and it's as impressive as it is surprising.
In the upcoming BBC documentary, Prince, Son and Heir: Charles at 70, Prince William and Prince Harry opened up about their father in honor of his upcoming birthday, and though it's no surprise that they both had plenty of glowing praise for their dad, one of the stories they shared was quite unexpected. As the BBC reported, Prince William said that back when he and Prince Harry were with Prince Charles on school holidays, he would actually take them out to the country to go pick up garbage.
The best part though? They assumed that was just what all kids did on their school holidays, according to The Telegraph. Prince William said, "We thought 'this is perfectly normal, everyone must do it'. We were there with our spikes stabbing the rubbish into black plastic bags."
Yet while the exercise may have helped teach his sons humility, it's clear that the main reason why Prince Charles pushed them to collect trash is actually because he's long been a staunch advocate for the environment. And he'd likely be pretty proud to know that, all these years later, the princes have even kept up the practice. According to Harpers' Bazaar, Prince Harry said:
...I used to get taken the mickey out of at school for picking up rubbish. I didn't go out consciously looking for it but when you go for walks anywhere and you see something and it stands out, you pick it up. And before you know it someone is like "what are you doing? Where are you going to put that?" It's like wow, I've literally done this because I'm programmed to do it because my father did it.
Queen Elizabeth's first-born has long tried to use his platform to raise awareness about environmental issues, and to call for much-needed change — and, in many ways, he has been ahead of his time. Prince Charles first began publicly advocating for eco-friendly policies since as far back as the 1960s, according to The Express, and in the 80s he converted the Duchy Home Farm at his country residence, Highgrove House, to be fully organic and sustainable, according to TIME.
Prince Charles has also been calling for environmental reform for decades, and ahead of the birth of his first grandchild, Prince George, in 2013, he told ITV's This Morning that becoming a grandfather only made him more committed, according to The Guardian, saying:
I've gone on for years about the importance of thinking about the long term in relation to the environmental damage, climate change and everything else. We don't, in a sensible world, want to hand on an increasingly dysfunctional world to our grandchildren, to leave them with the real problem. I don't want to be confronted by my future grandchild and [have] them say: "Why didn't you do something?" So clearly now that we will have a grandchild, it makes it even more obvious to try and make sure we leave them something that isn't a total poisoned chalice.
Given the prince's desire to continue fighting for the environment on behalf of his grandchildren, it's entirely fitting that, instead of giving Prince George a lavish or luxurious gift upon his birth, he actually opted to plant trees.
In the BBC documentary, the heir to the throne showed off the "dozens of different varieties of trees" planted at Birkhall, his home in Scotland, according to The Express, and called the area "George's wood." He explained, "As I get older, all I really long for is to plant trees. I hope it will be quite amusing for George as they grow up and he grows up."
Though Prince Charles hasn't always enjoyed the same outpouring of public affection as his late former wife, Diana, Princess of Wales, or even his own sons and their wives, he certainly has amassed quite the legacy over the last seven decades thanks to his dedication to environmental issues. And honestly, given the current alarming state of climate change, the Prince of Wales just might end up being exactly the kind of king the world really needs right about now.