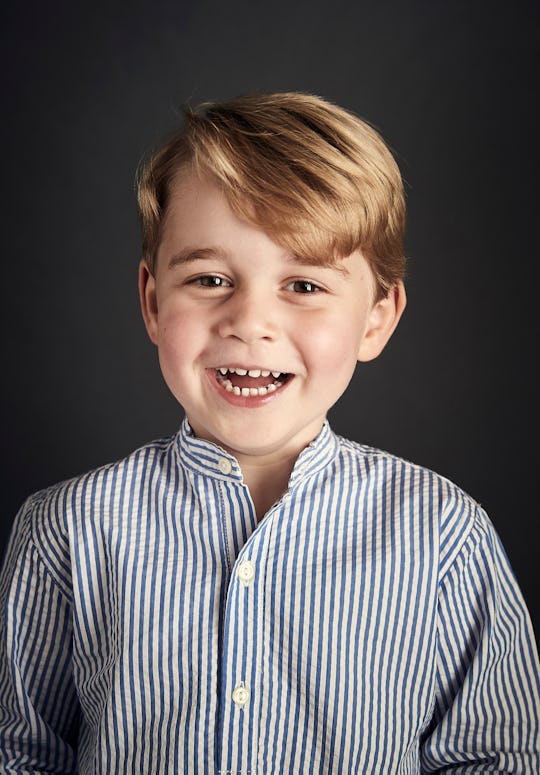 Handout/Getty Images Entertainment/Getty Images
Prince William Just Revealed Prince George's Favorite Movie & It's So, So Appropriate
Odds are that if you have ever seen a picture of Prince George, you love him. The adorable tot (and potentially future King of England) makes the best faces and gets very excited about helicopters. And if all that weren't enough, it turns out that he has the best taste in movies, too. Prince William recently revealed Prince George's favorite movie, and it's probably the most appropriate flick he could have chosen.
Prince William shared his 4-year-old son's most-watched flick while chatting with a young fan, in a video posted to Twitter by Sky News Royal Correspondent Rhiannon Mills. And drumroll please... it's The Lion King. Bravo, Prince George. Bravo.
As the video shows, when a little boy asked Prince William about his son's favorite show, the animated Disney classic made the top of the list. For any non-Lion King fans out there (who are you? Look at your life, look at your choices), Prince George also apparently likes The Lego Movie franchise, and British children's television show The Octonauts, which is about a bunch of animals who explore the ocean together.
Sure, those other options seem cool and all, but The Lion King is obviously where it's at. Apparently, Prince George has already begun to indulge in the good old "rewatch your favorite movie a million times" habit to which classic Disney films lend themselves so well. He may be only 4 years old, but he has watched the adventures of Simba and friends "a few times," his father said, according to the clip.
And it's not hard to see why. Perhaps little George finds himself relating to the pressures of being a young prince in the spotlight. Sure, he's never been thrust into the air by a wise baboon while hordes of animals sank to the ground in reverence below him, but are all the glowing articles about him on the internet (this one included) really so far off? I am listening to "The Circle of Life" as I write this, and it feels entirely appropriate.
Perhaps Prince George runs around the halls of the palace singing "I Just Can't Wait To Be King" in a way that is far more literal than it is for almost any other child who has ever loved the beloved '90s flick.
I think it's safe to assume that the similarities in storyline end there, though, since I can't quite imagine Prince Harry pushing Prince William off a cliff, galavanting around with a pack of hyenas, and trying to steal Prince George's throne.
I was 6 when The Lion King came out in theaters, and my parents wouldn't let me see it, because they thought I couldn't handle how sad and scary it was. So the fact that Prince George has already watched it so fervently at the mere age of 4 might mean that he is a brave and strong hearted leader-in-waiting. It also might just mean that I'm a wimp.
The movie has a bunch of excellent lessons about family, forgiveness, and responsibility, like how sometimes it's great to indulge in Hakuna Matata, you can't outrun your fears forever, and, of course, that we're all going to die someday, and we just have to be OK with that. So all in all, it seems like a great one for a future monarch to have on repeat.
No word from Prince William on whether little George has yet been introduced to the rest of the Disney canon. Seriously, what does he think of Aladdin or Beauty and the Beast? We will just have to wait to find out.
Watch Romper's new video series, Romper's Doula Diaries:
Check out the entire Romper's Doula Diaries series and other videos on Facebook and the Bustle app across Apple TV, Roku, and Amazon Fire TV.