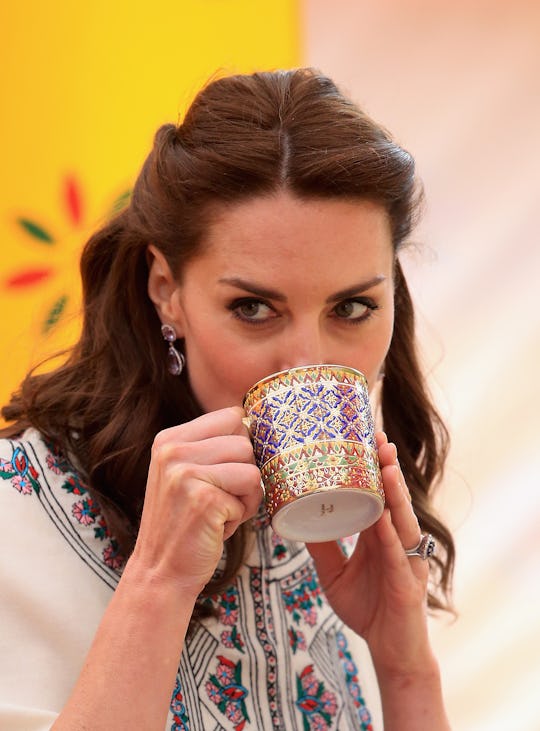 Chris Jackson/Getty Images Entertainment/Getty Images
Prince William Dishes About What Kate Middleton Eats To Calm Her Morning Sickness
Dealing with extreme morning sickness is no small feat for an expecting mother, but Duchess of Cambridge Kate Middleton has a lot of experience in dealing with it. She's got tricks and tools of the trade, and on Monday Prince William revealed what Kate Middleton eats to calm her morning sickness. Honestly, it sounds pretty yummy, and if it works? Do what you gotta do, girl.
Embracing her sweet tooth, Middleton snacks on ginger biscuits (or as we call them across the pond — cookies), the prince shared at an appearance for the Metropolitan and City Police Orphans Fund, according to Food & Wine. They do a little bit to help settle her stomach, he noted, but when things get really bad for her and she's feeling particularly nauseous, "there's not much ginger can do to stop [it]," he told reporters, according to the magazine. And seeing as her symptoms are so extreme, even cookies can't save her from the sickness.
But, Food & Wine was happy to report, Middleton does feel like herself from time to time, and she and William use the special occasion to order their favorite Indian food. Curling up on the couch, no cooking (or baking) required? Sounds like the coziest date night. In her previous pregnancies, Middleton constantly craved pizza — while pregnant with Charlotte she ordered pizza to her New York City hotel room, according to Us Weekly. The pies from famed restaurant Serafina, according to the outlet, included "a spicy sausage pizza (with no mushroom) and a prosciutto "di Fabio" pizza (with no sliced tomatoes)." Another point for pizza? The royal couple apparently ordered pizza to the hospital immediately after George's birth, too.
If pizza's for dinner, then ginger cookies are for dessert. If spicy Indian curry is on the table, then Middleton might reach for Haribo treats — gummy bears, she's looking at you.
Middleton's hyperemesis gravidarum (HG), the medical name for her extreme morning sickness, emerged with her first pregnancy. While carrying the now 4-year-old Prince George, she actually had to be hospitalized, according to TODAY. HG is characterized by consistent vomiting which can lead to dehydration and "the loss of greater than five percent of [one's] original body weight," WebMD explains. It's most common in the first eight to 12 weeks of pregnancy and is monitored closely so that mothers and their babies are kept safe.
Middleton's already suffered quite a lot while being pregnant, so she almost certainly can't wait for it all to be over and for their third child to join the family. No word yet on baby names or gender, but Prince George and Princess Charlotte's new sibling will also likely be named something classic — think "Victoria, Elizabeth, Alice, Alexandra, [or] Anne" for a girl and "Henry, Richard, Charles, James, [or] Albert" for a boy, PopSugar estimates.
Until that day comes, Middleton should definitely take all the rest that she needs in efforts to keep HG at bay. Stress can aggravate HG symptoms, and as much as fans and followers would love to see her, her health and the health of her baby are the most important thing right now.
Middleton's been laying low since her pregnancy was announced about a month ago, but is set to make her "first official appearance" since that announcement, presenting at a mental health focused event. The royals are passionate about bringing light to the issue, and the reception at Kensington Palace for World Mental Health Day is a wonderful use of time and resources.
The American Pregnancy Association suggests cold, bland foods to relieve morning sickness. All ginger everything (ginger sodas, ginger teas) is recommended too, along with popsicles and crackers. Whereas pizza and Indian take-out definitely don't make the official list, life's all about balance, right?
Watch Romper's new video series, Romper's Doula Diaries:
Check out the entire Romper's Doula Diaries series and other videos on Facebook and the Bustle app across Apple TV, Roku, and Amazon Fire TV.