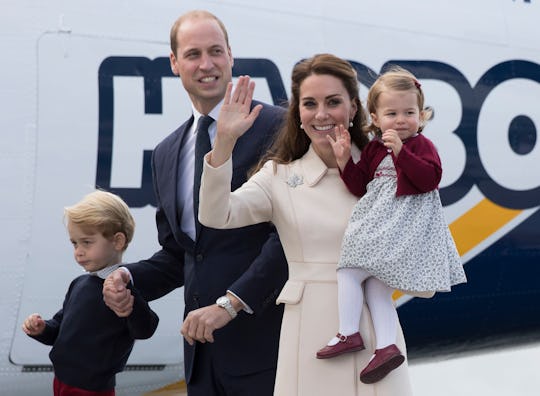 Pool/Getty Images Entertainment/Getty Images
Prince William On Being Open With His Kids
The British are known for their "stiff upper lip," or holding in their emotions, but Prince William said he's parenting his kids differently than other royal parents before him. As the royal, and the late Princess Diana's eldest son, told CALMzine recently, "Catherine (Duchess Kate Middleton) and I are clear that we want both George and Charlotte to grow up feeling able to talk about their emotions and feelings." This has been a big issue for the royal family these days, especially since William's brother, Prince Harry recently revealed that he had "shut down" all of his emotions for 20 years after his mother's death. So the fact that the dad of two and second in line to the throne is opening up with his kids already is a pretty huge deal.
Together, William, Kate, and Harry also founded the Heads Toegther campaign, focused on smashing the stigma of mental health issues. In the interview with CALMzie, William added that working with Heads Together and visiting schools has opened his eyes to the importance of allowing people to feel safe about talking about their emotions:
... We have been amazed listening to children talk about some quite difficult subjects in a really clear and emotionally articulate way — something most adults would struggle with. Seeing this has really given me hope that things are changing and that there is a generation coming up who find it normal to talk openly about their emotions. Emotional intelligence is key for us all to deal with the complexities of life and relationships.
While the stigma surrounding mental health issues affects everyone, it often takes a different toll on men, which is why it's so important that the two princes are making their rounds encouraging men to talk. Suicide is the number one killer of men under 45 years old in the United Kingdom. A lot of that can likely be ascribed the the culture of being tough and getting the job done — toxic masculinity — instead of reaching out for help. In the United States, more men die from suicide than women do, especially veterans returning with PTSD who don't get the mental health treatment they deserve, because society makes getting help seem like the "weak" option.
William said that he first grasped the immensity of the problem when he was working as a helicopter pilot with the East Anglian Helicopter Ambulance. He said, "My first call out was to a male suicide and I was told there were five suicides or attempted suicides every day in East Anglia alone." The Duke said it was "appalling."
Of course, having lost their mother so young, William and his brother are no strangers to feeling grief or sadness themselves. Harry said that his decision three years ago to start seeing a counselor and stop "sticking his head in the sand" was one of the best decisions of his life. It looks like his brother William feels the same way.
Who knows? George and Charlotte might be the first royal children who are comfortable and open about therapy or counseling one day, and don't see it as the taboo topic it is currently, all thanks to their parents. And that's pretty cool.