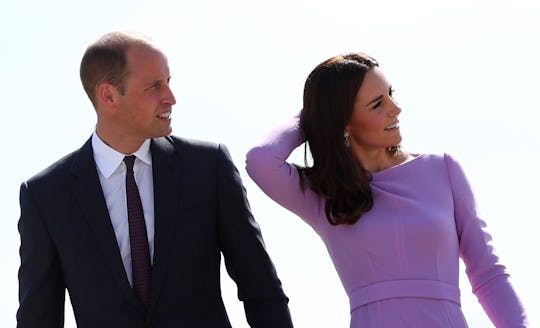 CHRISTIAN CHARISIUS/AFP/Getty Images
Prince William Opens Up About Kate Middleton's Third Pregnancy
Ever since 2-year-old Charlotte was born, the world has been dying to know if and when they could expect another royal baby. And on Monday, the Duke and Duchess of Cambridge announced that they are, in fact, expecting a third baby and have generously shared some intimate details about how things have been thus far. Just one day later, for instance, Prince William said that Kate Middleton's pregnancy caused the family to feel "a bit anxious to start with," according to a recent interview.
The mental health advocate shared during his keynote speech at the National Mental Health and Policing Conference that although "there's not much sleep going on at the moment," they'll all "start celebrating this week." He went on to say that a third child on the way is "very good news."
So why all the anxiety surrounding Middleton's third pregnancy? Unfortunately, the return of Middleton's hyperemesis gravidarum (HG), also known as severe morning sickness, has reportedly put a lot of stress on the situation. While pregnant with Princess Charlotte and Prince George, Middleton underwent the same sickness and struggle that she's facing now, according to The Guardian.
"We need Catherine to get over this first bit and then we can start celebrating. It's always a bit anxious to start with, but she's well," William said during his speech, adding that Middleton is doing "well" right now.
The condition is characterized by extreme nausea (that can lead to hospitalization), HG often subsides by 20 weeks, though it can possibly persist all the way throughout a pregnancy, according to the American Pregnancy Association. Given that some women may vomit as many as 12 times per day while afflicted, HG is an extremely debilitating condition for an expectant mother.
But luckily, identifying the problem early on can lead to better outcomes the next time around. "What we suspect from experience is that if you prepare, you can start pre-emptive treatment and can prepare your household" Caitlin Dean, chairperson of the U.K.'s Pregnancy Sickness Support and HG-sufferer herself, explained to People.
Obviously, Middleton will have leagues of support given her royal status, but for "regular women" especially, "that preparation is absolutely key," Dean further explained to People. Think about it: If you already have kids, but are bedridden by nausea for weeks on end, an HG diagnosis might seem like an impossible feat to overcome. So preparation is, indeed, crucial.
Thankfully, Middleton has plenty of help and well-wishers on her side as her pregnancy journey continues. It's likely that the third royal baby will be born in the spring of 2018 as she's only believed to be around twelve weeks pregnant at present, as The Sun reported. Hopefully, her morning sickness will subside sooner rather than later so that the family can really enjoy this special time together. Charlotte and George have a lot of little sibling preparation to do!