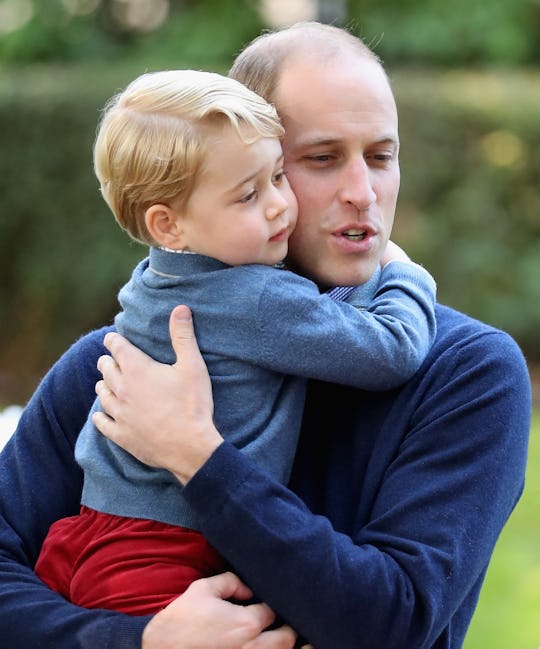 Chris Jackson/Getty Images Entertainment/Getty Images
Prince William Shares How Being A Father Has Impacted His Mental Health
If there's anything we know about the royal family, it's that their behavior is governed by composure and diplomacy. While their consistent graciousness is lovely indeed, the family does not often directly address their personal life issues, except on occasion. However, that doesn't mean that they don't experience struggles like anyone else. That's why it's so important that Prince William shared how being a father has impacted his mental health.
Today, Nov. 20, Prince William attended the first annual This Can Happen conference in Britain, as People reported. This year, the theme was addressing mental health issues for men. Prince William not only shared his support for developing resources to help men receive the mental health care they need, but he also opened up about his own challenges, particularly when it comes to being a dad.
At the event, Prince William opened up about how he struggles to keep his work and home life separate when he has to witness the struggles and difficulties of kids and families around the world.
"The relation between the job and the personal life was what really took me over the edge. And I started feeling things that I've never felt before. And I got very sad and very down about this particular family," the father of Prince George, Princess Charlotte and Prince Louis explained. "You start to take away bits of the job and keep them in your body. And of course, you don't want to share with your loved ones because you just don't want to bring that sort of stuff home."
However, it's not the first time Prince William has been transparent about struggling with the often brutal realities that come with overseeing a country and being a global figure, as well as the trauma that comes with serving in the military.
Back in September, at another mental health conference, People also reported that Prince William opened up about what it was like to serve as a first responder. "I took a lot home without realizing it," he said. "You see [so] many sad things every day that you think life is like that... You're always dealing with despair and sadness and injury. The attrition builds up and you never really have the opportunity to offload anything if you're not careful."
However, it's not the first time Prince William and other members of the royal family have dealt with intense emotional adversity.
For example, The Guardian reported that after his mother, Princess Diana, was killed in 1997, the Queen "shielded" him and his brother Prince Harry from "public grief" in an effort to help them process better. He said: "At the time, you know, my grandmother wanted to protect her two grandsons, and my father as well. Our grandmother deliberately removed the newspapers, and things like that, so there was nothing in the house at all. So we didn't know what was going on."
Prince Harry has likewise been open about how he struggled with his mother's death. However, The Guardian also reported that Prince Harry specifically commended his father for being the one to break the news to him and his brother, noting that he couldn't imagine doing something more difficult.
"One of the hardest things for a parent to have to do is tell your children that your other parent has died. How you deal with that, I don't know," Prince Harry said, according to The Guardian. "But he was there for us. He was the one out of two left. And he tried to do his best and to make sure that we were protected and looked after. But he was going through the same grieving process as well."
Now, as Prince William has a family of his own and Prince Harry gears up to welcome his first son or daughter in the spring, it's clear that both of them have grown up well, and that they are role models not only for their own kids, but for all of us to look up to.
This first-time mom wants to have a home birth, but is she ready? Watch how a doula supports a military mom who's determined to have a home birth in Episode One of Romper's Doula Diaries, Season Two, below. Visit Bustle Digital Group's YouTube page for the next three episodes, launching every Monday starting November 26.