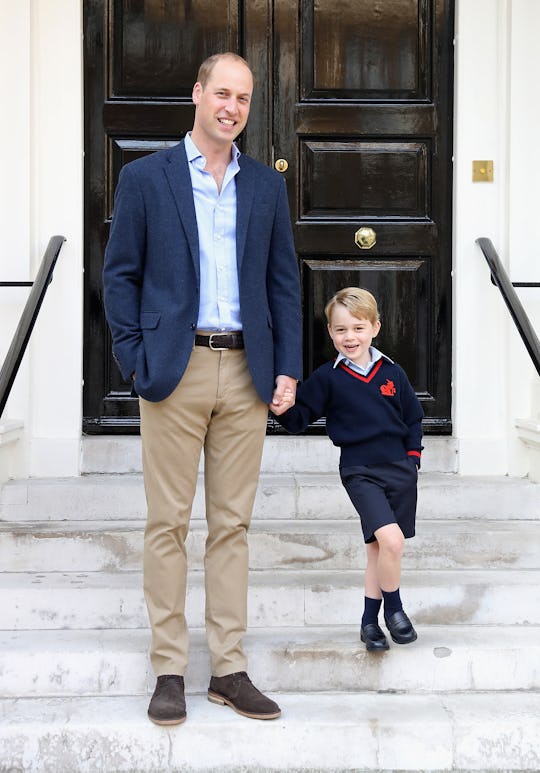 Handout/Getty Images Entertainment/Getty Images
Prince William Shares How He Built "Street Cred" With Prince George, & It's Seriously Hilarious
Any parent of a toddler will know that to truly win over your child's respect, you need to be into the same niche things that they are, like princesses, or trucks. This is apparently true of every parent, even if you are a literal future king. Prince William shared how he built "street cred" with Prince George, and not only is it hilarious, it is so, so painfully relatable.
People reported that in a recent speech, Prince William spoke a bit about his work with the Defense and National Rehabilitation Centre, particularly, a new development for injured personnel that he had been involved with. "I have been the Patron of the DNRC for four years and I have enjoyed every single moment of it," he said. "Along the way I have demolished a building — George was at an age at the time that he loved seeing the digger in action, so it did my street cred as a father a world of good."
So, yes, you read that right: it was not the fact that he had a hand in building a "state-of-the-art" rehabilitation center for injured military personnel, it was simply the fact that he used a very big, loud truck to demolish a building that finally won over Prince George's respect.
Of course, the world already knew that Prince George was very into trucks and cars. Last Christmas, People reported that George actually hand wrote a letter to Santa in which he asked for a single gift: a police car. Prince William hand delivered the note to Santa. "He hasn't written down many requests, so I think one request is probably okay," he said. In another report this past May, People also shared that Prince George's favorite toy to play with was his ride-on fire truck.
It's clear that Prince William is not only a great dad, he's a pretty funny one, too. At a state dinner, he told the crowd: "I hope that George doesn't keep you up. He has been known to be particularly vocal at 3 a.m. I swear I heard him doing the haka this morning," MSN reported. But Will isn't afraid to get sentimental, either, telling Anthony McPartlin and Declan Donnelly at the premiere of When Ant and Dec Met the Prince: 40 Years of the Prince's Trust about new parenthood:
I'm a lot more emotional than I used to be, weirdly. I never used to get too wound up or worried about things. But now the smallest little things, you well up a little more, you get affected by the sort of things that happen around the world or whatever a lot more, I think, as a father.
But when it comes to having feelings, Will has also been transparent about the fact that he and Kate want their kids to grow up with a healthy relationship to their emotions. "Catherine and I are clear that we want both George and Charlotte to grow up feeling able to talk about their emotions and feelings," he told CALMzone. He continued:
Over the past year we have visited a number of schools together where we have been amazed listening to children talk about some quite difficult subjects in a clear and emotionally articulate way, something most adults would struggle with.
It's clear that Will and Kate are absolutely amazing parents, whether it's delivering notes to Santa, cracking jokes about their kids being up at all hours of the night, or simply earning, as he put it, "street cred" by using his son's favorite demolition machines IRL. They may be royals, but hey, they're just like anyone else.