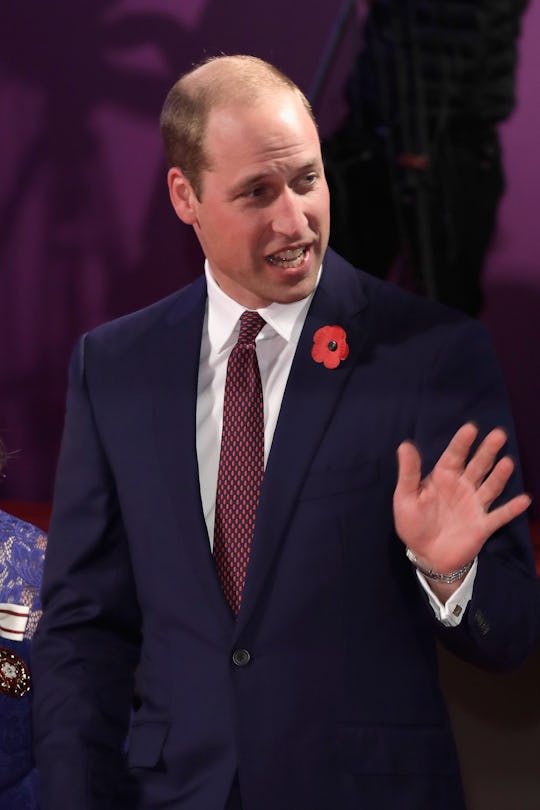 John Phillips/Getty Images Entertainment/Getty Images
Prince William Shaved His Head & Twitter Is Actually Freaking Out In The Best Way
Important news from across the pond — one of the royals over in the United Kingdom got a new haircut. That's right, Buckingham Palace buffs. Prince William apparently shaved his head, and Twitter — not to mention the world in general — is freaking out about it, in the best way.
OK, cue all the people saying "who cares about the royals? Who cares what they do with their hair? Aren't there more important things to worry about?" Yes, there probably are, but hear me out. This is still some really cool news, people.
It's not exactly a secret that Prince William's hairline has been receding for years. Now, he's opted for a "close-shaved new hairstyle," according to ABC News. He chose to shave it down, instead of trying to hold onto the bit of hair he still had left on top of his head, at least if recent photos are anything to go by. He's lost enough hair over the years that members of the royal family are "known to tease the 35-year-old about his receding hairline," according to BBC News. Ouch.
But still, why is it news that Prince William went for a new 'do? Because, frankly, losing hair is a bit of a big issue for men, and one that is still fairly stigmatized. And seeing one of the most famous men in the world decide to embrace the bald is kind of a big deal, even if it's not about to change international politics or anything like that.
There are a ton of articles out there about men losing their hair. In 2016, Men's Health published a piece titled, "10 Things You Should Know About Male Hair Loss." A year before that, The Independent explored "How and Why Men Go Bald." This is definitely a thing for men. And Prince William is just 35 years old. In the Independent piece, the author wrote, "when hair loss is severe or occurs at a young age [it] can be very distressing."
And that's part of why it's news that Prince William shaved his head. Guys the world over have been there. As Brennan Kilbane over at GQ put it:
To men everywhere who find themselves in the same boat—a boat populated by men rapidly losing their hair—the buzz also broadcasts an important piece of grooming advice: Lean in to the bare scalp look when you have no other choice.
There's a ton of media coverage on how "confident" Prince William looks now, and how "dramatic" the haircut is. It's getting a lot of positive attention, which is a wonderful thing since going bald still carries a stigma for men.
"Prince William went full Bruce Willis," singer-songwriter Jason Isbell said of Prince William's newly-shaved head. "That's the only move, in my opinion."
Several Twitter users commented on how "handsome" Prince William is now, which proves just how poorly we treat and talk about men whose hair is thinning (at least prior to them "embracing it" by shaving it off). Prince William was handsome before, too, but the fact that people are saying he's *actually* handsome now proves why his public decision to shave his hair is a thing.
And some people on Twitter had other suggestions for how Prince William should change his appearance next — namely, by adding a beard to his overall aesthetic as well.
Prince William's new look debuted at an event on Thursday, where he made an appearance to support the Step Into Health program, which helps to employ veterans in the National Health Service, according to Vanity Fair. And it really didn't take very long at all for the internet to take notice.
So here's my next question — is Prince William just trying this look out, or is he sticking with the shaved head for the foreseeable future?
Because there is the matter of that whole "royal wedding" thing coming up. Remember, Prince William's brother, Prince Harry, is getting married to his fiancée, Meghan Markle, in just a few short months.
So, is Prince William giving this look a try in preparation for his brother's wedding, or will he change it up again before the big day? I guess we'll just have to wait and see.
But for now, Twitter will happily comment on Prince William's current hair — or lack thereof. It's a really wonderful thing that fans are being so positive about Prince William embracing his bad, bald self, but in the end, all that matters is that he's happy with his new look.
Check out Romper's new video series, Romper's Doula Diaries:
Watch full episodes of Romper's Doula Diaries on Facebook Watch.