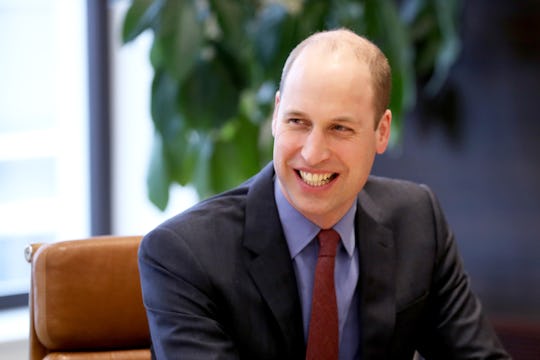 Chris Jackson/Getty Images Entertainment/Getty Images
Prince William's Quotes About Kate Middleton's Pregnancy Show He Was A Tad Nervous
Prince William and his wife, Kate — the Duchess of Cambridge — are expecting their third child any time now. I mean that quite literally, because the hospital where Kate Middleton is expected to give birth is reportedly preparing for the big day, so it's almost definitely going to happen very soon. The arrival of this newest royal baby is certainly going to be a big change for the family of four, and Prince William's quotes about Kate Middleton's pregnancy show he's needed some time to adjust to the idea of being a father again.
London's St. Mary's Hospital recently showed signs that it's preparing for the "royal birth" with changes like a new coat of paint, new parking signs, and crowd barriers outside of the private wing where Prince George, who is 4, his little sister, Princess Charlotte, 2, and Prince William himself were born, according to The Huffington Post. The no-parking signs are reportedly in effect through the end of the month, so the newest member of the British Royal Family will probably be here anytime in the next few weeks. That's cause for celebration and excitement, but Prince William in particular has been pretty honest about how it's not all fun and games — it's a huge adjustment for himself and the rest of the family, too.
"Coping" With A Third Baby
At the Centrepoint Awards at Kensington Palace in February, Prince William opened up a little bit about the new baby. He told guests, according to Us Weekly:
Our third child is due in April, I'm getting as much sleep as I can.
Two is fine — I don't know how I'm going to cope with three. I'm going to be permanently tired.
He was hopefully sort of joking about not knowing how to cope, but a lot of parents out there can probably relate to that "permanently tired" remark. Anytime you have a baby, your schedule and routine changes, and that includes sleep. When you've already got two kids and you're adding a newborn to the mix, that just further complicates things.
More On Sleep
Not long after the news got out that the Duchess was expecting a third baby, Prince Willaim spoke at a conference on mental health and policing in Oxford. He said that between the news, Kate's "extreme" morning sickness, and the fact that Prince George was set to start school around the same time, things were hectic at home. Prince William said, according to The Telegraph:
There's not much sleep going on at the moment.
Hopefully he got that under control, since, as previously mentioned, the royal parents might have to adjust their sleep schedules pretty soon to accommodate a newborn.
On Anxiety
At the same event, after he was congratulated following the announcement that he and Kate were expecting again, Prince William agreed that it was "very good news." However, he also added, according to People:
We need Catherine to get over this first bit and then we can start celebrating. It's always a bit anxious to start with, but she's well.
That anxiety was likely due to Kate's ongoing struggle with severe morning sickness. Kate dealt with hyperemesis gravidarum during the early months of her first two pregnancies, according to Newsweek, but it sounds like she worked through it again with this pregnancy and is doing better these days.
"In Denial"
In February, the Duchess of Cambridge visited the Snow Leopard Ward at Evelina London Children's Hospital. While there, she reportedly joked with the father of a child receiving care that her husband was having some trouble adjusting to the idea of having a third baby. She said, according to the patient, Jamie Parsons, and Hello Giggles:
William's in denial.
It's just another reminder that even royal fathers need to come to terms with having a new baby, even if this wasn't a direct quote from Prince William himself about the matter.
While Prince William has mentioned being anxious and having trouble coping with the thought of having another baby, he's probably still really excited to meet his third child. And if recent reports are correct, he or she may be joining the family within days, so he hasn't got long to wait.