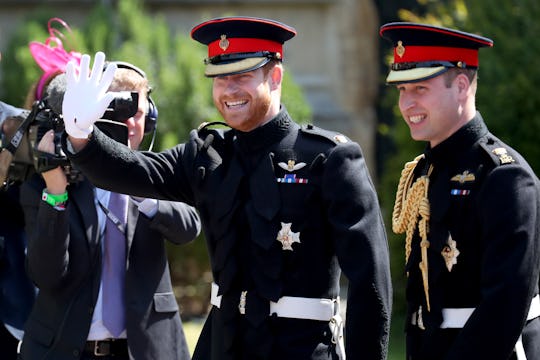 WPA Pool/Getty Images Entertainment/Getty Images
Prince William's Quotes About Prince Harry Show They've Got A Truly Unique Bond
To me — and to plenty of others — the royal family is endlessly fascinating: Their style, their weddings, their children, and their relationships with each other, in particular. Fans just can't get enough. Do they really all get along so well, or is it simply an act? What's it like growing up in the spotlight, with a royal title to boot? Many fans of the royal family might also wonder what the dynamic is like between heir to the throne Prince William and his younger brother, Prince Harry. It's tempting to assume that Harry has always been resentful of the fact that he's not the one who is next line line, after their father Prince Charles. However, it doesn't seem as if there's any bitter jealously at all between the two. In fact, Prince William's quotes about Prince Harry show they've got a truly unique bond.
Sure, they may be royalty and all. But when it comes down to it, Prince William and Prince Harry are just like any other brothers. Although they're definitely competitive and they certainly have a tendency to poke fun at one another, at the end of the day, they've got each other's backs. During a discussion with volunteers for the Best Man Project — an initiative to encourage men to support each other — William opened up about the special bond he shares with his younger brother. "My brother and I's relationship is closer than it's been because of the situations we've been through," William said, according to ABC News. "Losing our mother at a young age has kind of helped us sort of travel through that difficult patch together." He continued:
When you're like minded, you go through similar things. It's a bond and it's something that, you know, you've tackled it together and come out the other side better for it.
Too sweet, right? In fact, I think I might have something in my eye ...
Still, the royal brothers never pass at an opportunity to crack a joke on the other's behalf. "He's definitely got more brains than me. I think we've established that from school," Harry said during a 2009 interview, when the pair was answering questions about helicopter pilot training — which they were completing at the same time. "But when it comes to all that, I'm much better hands on." "I've got more looks as well, so ..." William interjected.
To that, Harry simply stated, "Baldness." (LMAO, harsh!)
"That's pretty rich coming from a ginger," William shot back, managing to get in the last word.
During this same, priceless interview, the brothers opened up about what it was like living together for the first time as adults.
"First and last time we'll be living together, I assure you of that," Harry noted.
"It's been a fairly emotional experience," William said, nothing that he basically does all of the cooking every day for the both of them. "He does do a bit of the washing up, but then he leaves most of it in the sink, and then he comes back in the morning and I have to wash it out."
"Oh, the lies, Harry responded, with a laugh.
"He snores a lot as well. It keeps me up all night long," William added.
"Thanks for sharing about that," Harry quipped.
Yep, they're definitely brothers.
After Prince Harry announced his engagement to Meghan Mark back in November 2017, William expressed his well wishes for the couple, Town & Country magazine reported. "We're very excited, delighted for them both. We're wishing them all the happiness in this very exciting time," William said. "For me personally, I hope it means he stays out of my fridge and will stop scrounging my food, which he's done for the last few years!" LOL. Clearly, Harry didn't take the jab too personally, as he asked his older brother to be his best man just a few months later, according to The Guardian. (If you remember, Harry did the honors at William and Kate Middleton's 2011 wedding.)
Honestly, I could listen to Prince William and Prince Harry crack jokes about each other all day. With all of the royal duties and appearances they have to tend to, the brothers are typically quoted speaking on serious topics. So it's nice to see them in a more "normal" light every once in a while. And based on what Prince William has said, on the record, about his little brother, their bond is something truly special.