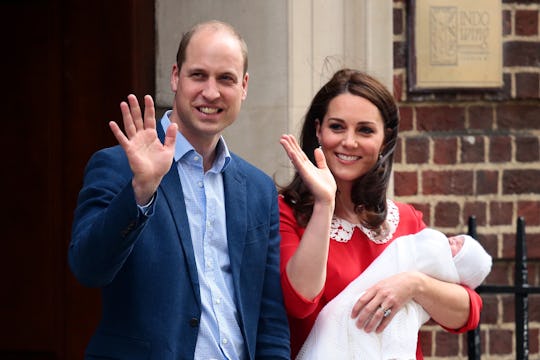 Jack Taylor/Getty Images Entertainment/Getty Images
Prince William's Quotes About The New Baby So Far Show He's Tired, But Over The Moon
On April 23, Prince William and Kate Middleton welcomed their third child — a baby boy — and the world rejoiced. News of the royal prince's birth quickly traveled around the globe, and crowds excitedly waited outside of St. Mary's Hospital in London to catch a first glimpse of the newest royal baby. Although the little prince's name has yet to be announced, the Duke of Cambridge has provided updates on how life with his newborn is going. And Prince William's quotes about the new baby so far show he's tired, but over the moon.
Fans of the royal family didn't have to wait too long after the royal baby's birth on Monday to meet him. Just seven hours after Middleton delivered her son, the proud parents stepped outside of the Lindo Wing with their newest addition to introduce him to the world, Good Housekeeping reported. The Duke and Duchess of Cambridge later reemerged — with their baby boy in a car seat — to walk to their ride and return to Kensington Palace. On their way out, Prince William said they were "very happy, delighted," and joked that, "we didn't keep you waiting long." Right before he entered the vehicle, the duke also held up three fingers and said, "Thrice worry now."
On Wednesday, Prince William stepped out for his first post-baby public appearance to attend an Anzac Day Service of Commemoration and Thanksgiving at Westminster Abbey, Us Weekly reported. As he was arriving for the event, the duke gave an update on the royal baby. When asked how his newborn was faring, Prince William replied, "Very well, thanks." He went on to say that everyone was "in good form, luckily." Royal fans also learned the newborn prince is apparently a decent sleeper. "Sleeping's going reasonably well so far, so he's behaving himself which is good," Prince William added, according to Us Weekly.
And yet ... the dad of three was caught on camera nodding off during the service, People reported. Cue: New parents everywhere nodding in solidarity with a single tear running down their cheek as they try to remember what six hours of solid sleep feels like.
While out for this particular appearance, Prince William also offered some teasers concerning potential contenders for the royal baby's name, HuffPost reported. Australian high commissioner, Alexander Downer, had mentioned to William that Alexander was a good option. "Funny you should say that ― it's a good name," Prince William replied, according to HuffPost. "Prince Alexander does have a nice ring to it." New Zealand's high commissioner to the United Kingdom also jokingly suggested that his name would work nicely, as well. "Jerry is a strong name, absolutely," Prince William answered.
Prince William made his second post-baby public appearance on Thursday. This time it was with his brother, Prince Harry, at a charity called Greenhouse Sports in London. A reporter with the Daily Mail, Rebecca English, asked the duke directly about the royal baby's name, to which he replied, "I'm working on that one. You'll know soon," according to Town & Country Magazine.
And ... That's pretty much it, folks.
Granted, what Prince William has revealed so far about his third child is still extremely limited — but the yet-unnamed prince is still only three days old, after all. It's actually impressive (or maybe depressive?) that the Duke of Cambridge has already had two official appearances so soon after welcoming a baby. From the looks of it, though, Prince William is over the moon about his newest son. At the same time, it's clear he is running on a limited amount of sleep. I know that "royal duty calls" and all, but I hope Prince William is eventually able to relax at home with his family for a few days in a row — so he can soak in those precious, early days with his baby boy.
Besides, I'm sure going just one day without people shoving microphones in his face and asking about the royal baby's name would be a nice change of pace.