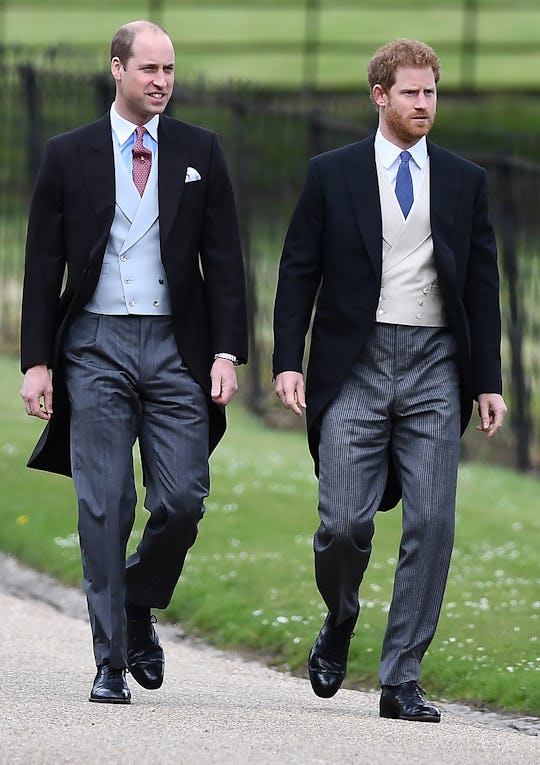 WPA Pool/Getty Images Entertainment/Getty Images
Prince William Just Had The Cheekiest Reaction To His Brother's Engagement
There is nothing like the bond between siblings. They're your partner-in-crime, through thick and thin — and this could not be more true for Prince William and Prince Harry. The two brothers, born just two years apart, have grown up in the public eye and been by each other's side throughout all of the good and the bad. Because of this, it's no surprise that Prince William's reaction to his brother's engagement shows just how close they are.
On Monday morning, Prince Harry announced his engagement to American actress Meghan Markle, putting the prince (and fifth in line to inherit the British throne, according to Reuters) off the market for good. People were, understandably, pretty excited about this — including Prince Harry's family members. Prince William's statement, given to reporters on Wednesday, is exactly what you would expect from an older brother who has grown up in close proximity with his younger sibling his whole entire life.
On Wednesday during a visit to Finland, according to People, Prince William only had well wishes for his brother and fiancé. "We're very excited, delighted for them both," Prince William said. "We're wishing them all the happiness in this very exciting time."
But he couldn't just say that. He had to take it one step further. "Personally, I hope it means he stays out of my fridge and stop scrounging my food, which he's done the last few years!"
Now that Prince Harry will have another person to share his household with, it is more than likely that their fridge will be well-stocked, which means less visits to his brother's place for food.
But Prince William's statement, made on Wednesday, is a far cry from the very formal statement Prince William and his wife, Kate Middleton (aka the Duke and Duchess of Cambridge), released on Monday shortly after Prince Harry's engagement to Markle had announced. The couple said in a joint statement, according to Harper's Bazaar:
We are very excited for Harry and Meghan. It has been wonderful getting to know Meghan and seeing how happy she and Harry are together.
And Middleton's own, personal reaction to the news was just as sweet as her husband's, if not a little less humorous. "It's such exciting news," she told reporters on Tuesday, according to Harper's Bazaar. "It's a really happy time for any couple and we wish them all the best and hope they enjoy this happy moment together."
The feeling is mutual. During their first joint interview together, both Markle and Prince Harry expressed their gratitude for Middleton and Prince William, calling them "absolutely amazing" and "fantastic support." Because as every younger sibling knows, the only person who has gone through the same things (but had to do them first) is your older sibling.
If Prince William is this excited about his brother's engagement, then can you imagine how excited he'll be for the wedding? With Prince Harry and Markle's wedding scheduled for this May, some people have already started speculating about the details, according to TODAY. Some believe that Prince William's children, Prince George and Princess Charlotte, will be involved in the wedding and serve as a page boy and bridesmaid in their wedding, just like they did for their Aunt Pippa, or during Middleton's sister's wedding, this past May.
Once this royal wedding comes and goes, Prince William might not have his brother raiding his fridge as often, he will still have him in close proximity. Prince Harry and Markle will be moving in to Nottingham Cottage together in London, come May, according to Business Insider, where Prince Harry has lived for the past four years.
According to Business Insider, Prince William and Middleton already live on the same grounds in a much larger home, Kensington Palace, so they will have plenty of time to share food and meals. But this time it will be with their respective spouses, which is just as sweet.
Check out Romper's new video series, Romper's Doula Diaries:
Watch full episodes of Romper's Doula Diaries on Facebook Watch.