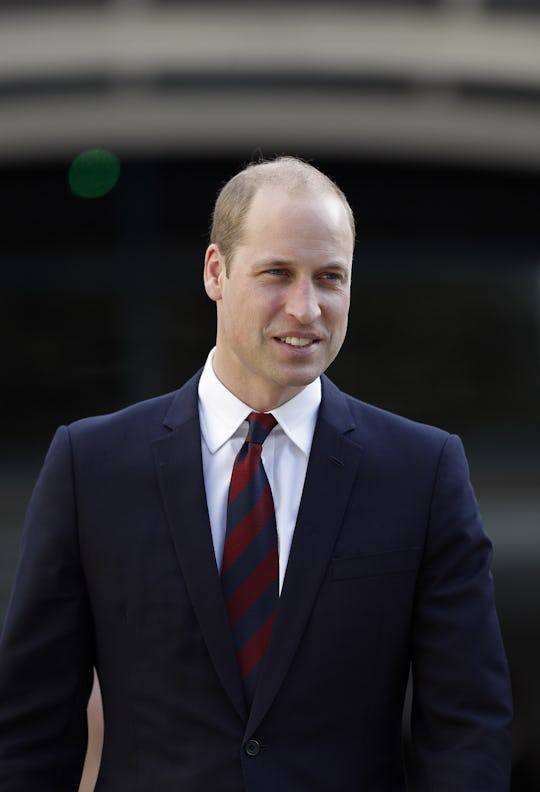 WPA Pool/Getty Images Entertainment/Getty Images
Prince William's Trick For Getting Prince George To Sleep Is Surprisingly Simple
Even royal babies have trouble getting to sleep. Though the Duke and Duchess of Cambridge may have a team of people at the ready to help with the kids, they still face plenty of everyday parenting challenges. And like any dad, Prince William is already building his arsenal of tips and tricks to make life with Prince George and Princess Charlotte easier. Prince William's trick for getting Prince George to sleep is delightfully simple but surprisingly effective.
While attending an event for the charity Heads Together, Prince William opened up about one of the biggest challenges of fatherhood: getting a baby to sleep. Though he acknowledged that Princess Charlotte actually isn't prone to crying, Prince William did say that he had a tough time getting Prince George to sleep when he was an infant, Good Housekeeping reported. His solution: run the tap. For some reason, the running water consistently helped Prince George to settle down. And ultimately, Prince William successfully used the same technique to soothe Princess Charlotte. It's evidence that moms and dads anywhere can put their children to bed the way royals do: just run some water.
For parents who want to try the technique but worry about the environmental impact, there may be an alternative: invest in a sound machine. Websites such as BestProducts.com ranked sound machines for use in nurseries, but there are many guides online that point moms and dads toward affordable and effective options. Try one that features water sounds (ocean waves, a babbling brook, etc.) or white noise to get an effect similar to that created by turning on the tap without running up the family water bill.
One of Prince William's parenting techniques got positive press in the past: In photographs, the prince can often be seen crouching down to talk to his son, according to Good Housekeeping. Child psychology experts applauded the gesture as an expression of "active listening" and a sign of investment in what a child has to say. Though Prince George is often the center of attention, he's growing up with plenty of responsibilities and expectations not often placed on preschoolers. By getting down on his son's level, Prince William telegraphs that Prince George's point of view is important.
Though Prince William is coming into his own as a dad, he's open about honoring the people who shaped him. That includes Queen Elizabeth II, his grandmother. In an interview, the Duchess of Cambridge said that the queen is a guiding force for her as a mother but never attempts to override parenting decisions, Redbook reported. Prince William said that the queen was much the same way as a grandparent:
Growing up, having this figurehead, having this stability above me has been incredible. I have been able to explore, understand, slightly carve my own path. I greatly appreciate and value that protection.
Now, Prince William is a protective force for his own two kids. And if it takes running the tap to make his babies feel safe, the future king is all for it.