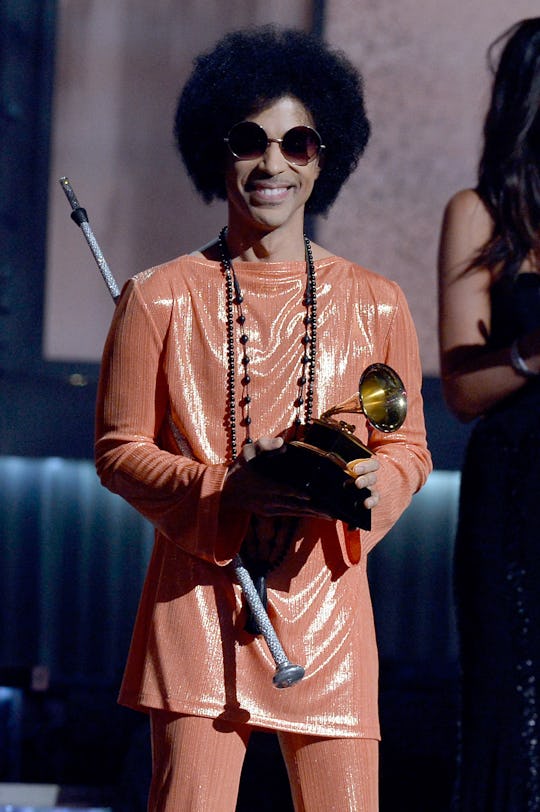 Kevork Djansezian/Getty Images Entertainment/Getty Images
Prince's Last Appearance Was A Special Moment For Fans
The loss of several legends has made 2016 a difficult year musicians and the fans who follow so closely. And Prince's death on April 21 only adds to the heartbreak of the industry. According to Hollywood Reporter, Prince was found dead in his Minnesota recording studio early Thursday morning. Fans of the "Purple Rain" and "Raspberry Beret" singer were skeptical of the news at first, with several outlets reporting the singer had not died. But after the Associate Press released a tweet with Prince's publicist confirming the death, the tears started pouring and the tributes began rolling out for the 57-year-old singer. This news is especially shocking to fans who witnessed what is not Prince's final performance merely days ago.
TMZ reported that Prince hosted a last-minute concert at Paisley Park, which is close to his hometown in Minnesota, on April 16. Though he didn't rock out at the concert, he did dance along with the crowd and told them to "wait a few days before you waste any prayers." Many assumed the comment was in regards to his emergency, but short stay at a hospital the day before. According to Us Weekly, Prince's plane made an emergency landing and he was rushed to hospital. He has been battling illness for a few weeks, and was released after three hours.
Now, however, these last words hold a different meaning to fans who adored the singer and are shocked by the tragedy.