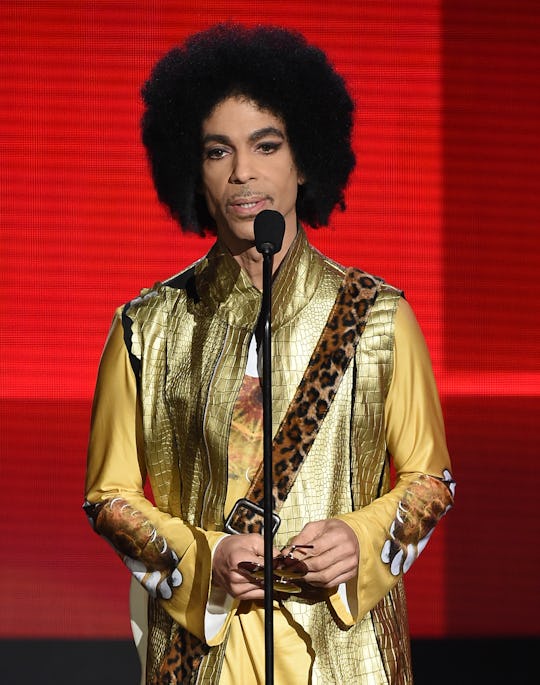 Kevin Winter/Getty Images Entertainment/Getty Images
Prince's Last Instagram Is Overloaded With Fan Tributes
Earlier today, the artist known as Prince was pronounced dead at his home and studio in Paisley Park, Minnesota. According to TMX, the 57-year-old's body was discovered early Thursday morning, and multiple sources have confirmed it was Prince Rogers Nelson. However, the singer was active on social media just last week, leaving many to wonder what exactly what happened. But what was Prince's last Instagram, and does it hold any clues into his life — and death?
Unfortunately, due to the overwhelming traffic Prince's Instagram page was receiving at the time this article was published, that remains unclear. Why? Because the image will not load. At all. What is known is that the image was posted a week ago, and, since news of Prince's death broke, this pic has become something of a virtual memorial.
In fact, most of the images on his Instagram page have, like this post from last week, where commenters have written everything from your standard "R.I.P." and "Rest in Peace Prince" to sweet and quirky notes and lengthy tributes:
You were a musical genius and I can't imagine the music industry without you. R.I.P.
Whyyyyyyyyyyyyy???? MY IDOL YOU WERE A BEAUTIFUL SOUL. I WISH THE WORLD HAD YOUR HEART YOUR SPIRIT. YOU INFLUENCED ME IN ALL OF MY ENDEAVORS IN MY MUSIC IN MY LIFE. FOREVER YOU WILL LIVE ON IN MY HEART AND THRU ME. #LONGLIVEPRINCE😢💔💔💔💔💔
Thank you for a funky time.
Your music was part of my life, thank you for your awesome talent. RIP Brother. <3
I hope ur laughing and dancing in the purple rain up there. Rest easy baby 💔😢
Over the course of his 38-year career, Prince released 39 solo albums. In recent years, Prince had been performing with 3rd Eye Girl, his latest band/project with whom he put out four records. And while Prince had been battling health issues — on April 15 his private jet made an unexpected landing in Illinois due to a "medical emergency" (an emergency that landed the pop star in the hospital for several hours) — the gravity and severity of his illness was unknown, as the singer performed a concert the following day. According to Prince, he was just "battling the flu" and fans should "wait a few days before you waste any prayers [on me,]" according to TMZ.
The exact cause of death has yet to be determined, and presumably will not be known until an autopsy has been conducted.