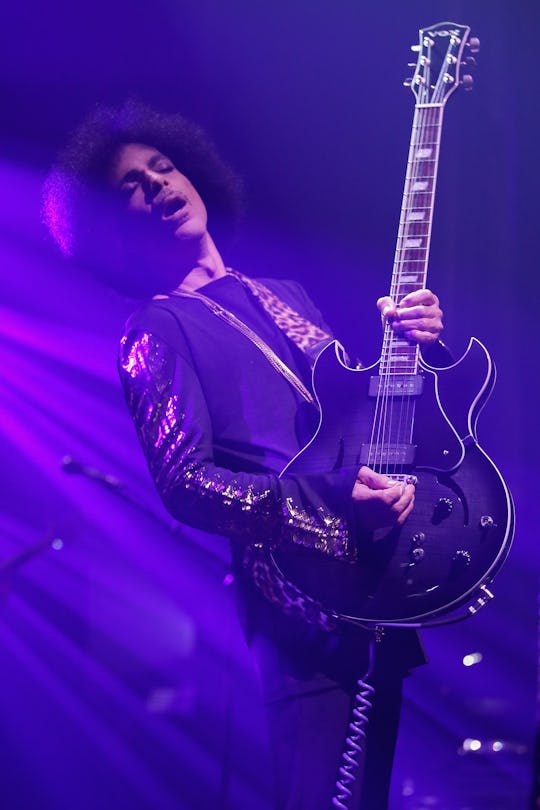 Chelsea Lauren/Getty Images Entertainment/Getty Images
Prince's Last Studio Album Proves Exactly Why He Was So Influential
Music fans everywhere mourned on Thursday, after family sources confirmed the death of legendary singer/songwriter Prince. According to Yvette Noel-Schure, Prince's publicist, the musician's body was found in his Chanhassen, Minnesota compound, Paisley Park, earlier in the morning, just days after the singer's private plane was forced to make an emergency landing in Moline, Illinois for undisclosed reasons. While the majority of the public focused its attention on grieving his death, others noted that Prince's last studio album now stood as a shrine to his influence and impact on the world.
"Like books and Black lives, albums still matter," Prince memorably stated at the 2015 Grammys, where he took the stage to present the award for Album of the Year (the honor that year went to Beck for Morning Phase). Certainly, that was a theme that Prince took to heart when compiling his final studio discography for the mixed-review HITnRUN: Phase Two, the follow-up to his highly-lauded HITnRUN: Phase One.
At the time, The Los Angeles Times called the album "proudly organic", while others like The Observer referred to the compilation as "patchy" — but the understanding that the album was meant to do more with its lyrics than anything else reigned: HITnRUN: Phase Two was a statement on black lives, no matter how many other punchy tracks dotted the list.
The album's first track, "Baltimore", shook things up from the start, assailing listeners with references to the death of Freddie Gray, a young black man who died while in police custody in 2015.
"Nobody got in nobody's way, so I guess you could say it was a good day, at least a little better than the day in Baltimore," Prince sings on the opening verse, before continuing,
Does anybody hear us pray for Michael Brown or Freddie Gray? Peace is more than the absence of war ... We're tired of the cryin' and people dyin'. Let's take all the guns away. ... It's time to hear the guitar play, guitar play, Baltimore, ever more. If there ain't no justice then there ain't no peace.
Prince's prolific final album debuted less than a year after Gray's death, when the wounds were still fresh; Not only did it provide activists with a soundtrack against which they could lay their outcry, it acted as a megaphone for the Black Lives Matter cause, one which couldn't as easily be ignored.
On Thursday, Baltimore City State's Attorney Marilyn Mosby, the official responsible for charging the officers involved with Gray's death, commented on Prince's passing in a heartfelt statement to CBS Baltimore's Brandon Longo, saying,
Prince was a legendary and prolific musician, actor, and humanitarian. I am deeply saddened to hear of his passing but I am extremely grateful for the opportunity I had to meet him. My heart and prayers are with his family and friends.
Despite the fact that HITnRUN: Phase Two had its lighter, catchier moments, as all Prince albums do, the artist's final studio production turned out to be his lasting legacy — one that his family and friends can rest assured did more than he could ever have hoped.