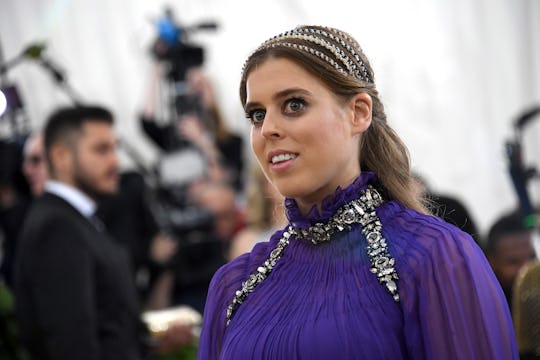 Noam Galai/Getty Images Entertainment/Getty Images
Princess Beatrice Shared Some Sage Advice After Learning Some Life Lessons "The Hard Way"
Talk about a busy schedule! England's Princess Beatrice just hit an NYC charity event to inspire young women, just days ahead of reporting across the pond for bridesmaid's duty at sister Princess Eugenie's wedding. And on Thursday, Princess Beatrice shared some sage advice after learning a few life lessons "the hard way," as she told the crowd.
According to People, 30-year-old Princess Beatrice — a granddaughter of Queen Elizabeth II and eighth in line to the throne — according to the Daily Mail, gave an inspiring speech to the crowd at Barclay's Center in Brooklyn, New York yesterday. The event was part of WE Day — a gala event recognizing young people, in particular young women, who've made a contribution to their community — according to the WE.org charity group.
"As a young working woman in the public eye, I have had to learn some lessons the hard way, but those lessons have taught me to be strong and to never give up," the princess told a crowd that included Walgreens Chief Operating Officer Ornella Barra, who was being honored for her charity work and Hebh Jamal, a Bronx teen fighting Islamophobia, according to People.
"Your passion and determination are a constant reminder that when you find your cause anything is possible. I want extend a huge thank you for serving as a constant inspiration for my life and for countless others," Princess Beatrice, in a red dress with hot pink accents and black strappy sandals, according to Hello!, told the audience.
"You don't have to face anything alone. Not illness, not bullying, not anxiety, not stress at school or at home. You can reach out to others," the princess, who has been involved with the charity since 2014, according to the Daily Mail, told the crowd.
WE Days have also included Selena Gomez, who was the host of 2017's event in Los Angeles; Kelly Clarkson and Alicia Keys are some of the other stars who have participated, according to the nonprofit's website.
"It's hard to navigate situations like these because there is no precedent... We are the first...young women trying to build careers and have personal lives, and we're also princesses, and doing all of this in the public eye," Princess Beatrice recently told Vogue regarding being a working royal.
Princess Beatrice and Princess Eugenie are Prince Andrew and Sarah Ferguson, the Duke and Duchess of York's daughters, and cousins to Prince William and Prince Harry, according to People. They spoke jointly at Britain's We Day U.K. Charity Concert earlier this year, as People reported. At that event, a newly-engaged Princess Eugenie told her older sibling: "As my big sister, you inspire me. I love that, as a team, we work hard to support each other – no matter what," as Hello! reported.
Beatrice is the vice-president of a technology company and commutes between London, Windsor and New York, according to the Daily Mail. Speaking of Windsor, it's only a matter of days before Princess Beatrice gets to support her younger sibling as she ties the knot with longtime boyfriend Jack Brooksbank at the historic castle located there, according to the Daily Mail, which added that the locale was also the scene of Prince Harry and Meghan Markle's picturesque wedding earlier this year.
I think it's exciting as a royals fan to be getting to know more about the other branches of the family. Princess Beatrice and her adorable, lookalike sister are unique in being members of the monarchy but also normal gals who have regular lives like anyone else their age. In a way, that makes them even more interesting and relatable to the rest of us.