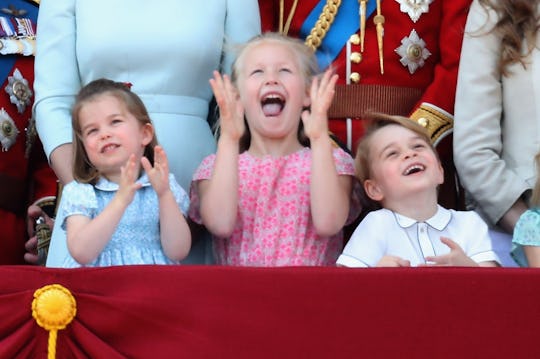 Chris Jackson/Getty Images News/Getty Images
Princess Charlotte Fell On The Palace Balcony & Kate's Mom Reflexes Are #Goals
Young children have a way of wanting to do everything right there with the bigger kids, even when their coordination and balance aren't quite on the same level. "I do it!" is basically the mantra of 2- and 3-year-olds. (From my experience, at least.) Because of this, parents find themselves always "on" and ready to pounce into action — whether their little ones need a (sneaky) helping hand, someone to catch them as they fall, or comforting when a spill inevitably does happen. And royals are no exception. That's because Princess Charlotte fell on the palace balcony, and Kate Middleton's mom reflexes are #goals.
In case you missed it, the annual Trooping of the Colour — a parade/celebration of Queen Elizabeth II's birthday — was held Saturday in London. The royal family was standing on the balcony of Buckingham Palace during the flypast when Princess Charlotte lost her footing and started to stumble backward, ET Online reported. Luckily, though, it was mom to the rescue. The Duchess of Cambridge was able to reach out an arm to steady her daughter before she actually fell. Although it isn't clear whether the little princess bonked her face on the balcony as she slipped. Regardless, the 3-year-old was clearly a bit freaked out by the stumble — and Middleton scooped her up in her arms to comfort her. If you watch closely in the video, below, you can see the near-fall happen shortly after the 2:06 mark.
Middleton, like always, handled it all without skipping a beat. She quickly diffused the situation by comforting her daughter — who went right back to enjoying the celebration after some snuggles from mom. And although it was just a tiny blip during the Trooping of the Colour, royal fans definitely noticed. "Princess Charlotte was falling down and banged her little face on the balcony," one Twitter user wrote. "Catherine has quickly taken her daughter up and comforted her! It's just a confirmation how great she is as a mum and how solicitous she is in general."
"Awwww. Sweet thing. Hope she is OK. Love how Kate loves and comforts her children," one person commented.
And this parent totally gets it. "I think I do this 10 times or more day. My son is the same age," another Twitter user chimed in. (Same.)
"So basically what every other mum does when their child falls," another Twitter user pointed out. "Shout out to all the great mums out there!! not JUST Kate :)" I have to admit, this person does have a point; Middleton simply did what most concerned parents would in a similar situation. Still, parenting in public can be a delicate balancing act — especially when you're a member of the royal family and all eyes are on you.
And this isn't the first time Middleton has diffused a public meltdown before it had a chance to fully escalate. Back in July 2017, the Duchess of Cambridge calmed Princess Charlotte when she had a mini-tantrum and refused to board the royal family's private plane from Germany to home, People reported. Middleton expertly bent down — while wearing high heels, mind you — to her daughter's level and calmed her with reassuring words. Prince William then helped Princess Charlotte onto the plane, and all was well again.
As far as the Trooping of the Colour is concerned, other than that brief scare, Princess Charlotte and Prince George pretty much stole the show, ET Online reported. Like Charlotte's adorable, little wave.
Editor's Note: This post has since been deleted.
And her clapping.
And that moment when Savannah Phillips — daughter of Peter Phillips and granddaughter of Princess Anne — covered Prince George's mouth during "God Save the Queen," Town & Country magazine reported. It was simply priceless.
LOL. There's never a dull moment with the royal children, is there? Which probably has a lot to do with why Kate Middleton's mom reflexes are so refined at this point. I know I've learned from experience that not much surprises you by kid number three — and catching falling kids basically becomes like a sixth sense. Welcome to the club, Duchess!