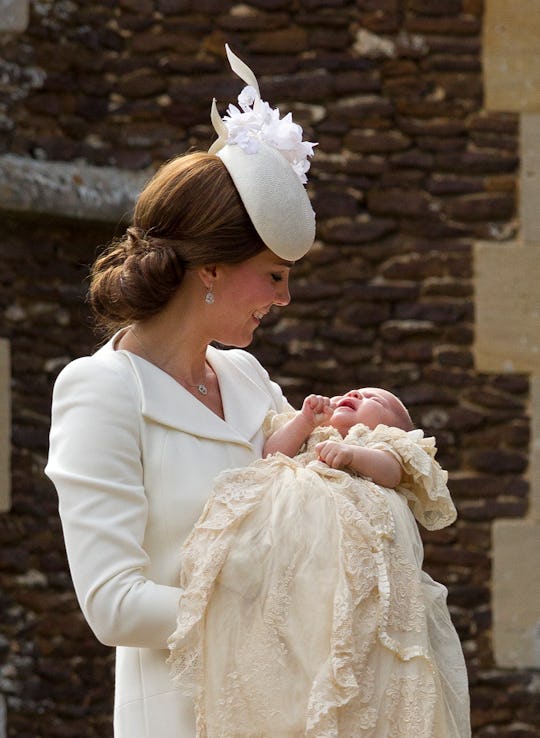 WPA Pool/Getty Images
Princess Charlotte Is 6 Months Old Today, & Here Are 3 Little Ways She's Already Stolen Our Hearts
When the Duchess of Cambridge announced her second pregnancy in 2014, the Royal Baby craze reached fever pitch (yet again). And while it seems like just yesterday we were staring at that door outside the Lindo wing of St. Mary's Hospital for the second time in two years, here we are: Princess Charlotte turns 6-months-old today. And if that news tells us nothing else, it's how quickly time flies. While Charlotte has remained mostly out of sight since her birth on May 2, it hasn't stopped people from wondering what she's up to — and if she's getting along with that big brother of hers. But it's also impossible to not think about how Princess Charlotte has shaken up things (pretty much everything) in the past six months... and boy, has the little one done so much in so little time.
The royal family is notoriously close-knit, but it's indisputable that little Charlotte has brought the family that much closer. And her dad? Well he's totally over-the-moon for his little princess: In September, William told reporters that Charlotte was "a little joy from heaven." (Pretty sweet, huh?) At the same time, the Prince was pretty candid about the many struggles of raising two young kids, adding that with Baby No. 2 there's been a lot more to juggle — especially when it comes to getting a handle on young George, who is now a super rambunctious toddler, according to most reports.
In fact, George is pretty infamous within the Royal Family for being something of a live wire — Prince William reportedly calls the 23-month-old his "little monkey" because of his boundless energy — but it appears the princess is providing her parents with a much-needed sense of calm... OK, maybe not calm, exactly; after all, Prince William claims he's experienced more than a few "sleepless nights" courtesy of Princess Charlotte. 
So in honor of the princess ringing in her half-birthday today, now's as good a time as any to look back on how George's little sis has been melting each and every one of our hearts for the better half of 2015: 
1. Her Outfits Are On Point — Every. Single. Time.
When it comes to picking out Charlotte's fashion choices, Princess Katherine has got it on lock. But while you might think royal infancy typically brings with it a lot of frilly dresses as opposed to drooled-soaked onesies, that's not entirely the case. Kate may be foregoing dresses until Charlotte turns one, considering it's royal tradition. As Rachel Riley, Kate's favorite children designer explained to People: "Because they're a traditional family, I'm sure that she'll wear babysuits for the first year, and then only when she's walking will she then move into dresses."
2. She's Cute AF Pretty Much Always
Babies are cute. That is a fact. But Charlotte is next-level cute. (At least, judging by what we've seen of her so far.) Between that and her flawless threads, and it's impossible to not go "Aw."
3. She's Clearly A Kick-Ass Little Sister, Judging By How Much George Loves Her
And when it comes to Charlotte, one of the cutest things is seeing how close she is with her big bro. According People, Prince William has shared that despite their differing demeanor, George and Charlotte have meshed perfectly.
With six months down, it's clear Princess Charlotte is only getting started. I, for one, can't wait to see who she grows up to be.
Images: WPA Pool/Getty Images