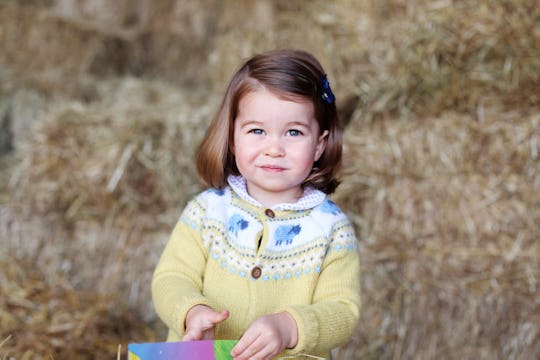 Handout/Getty Images Entertainment/Getty Images
Princess Charlotte Is Reportedly Learning To Ride Horses, Just Like Her Big Brother
When you're raised as a royal, there are certain traditions and milestones to which you must abide. Whether it's adjusting to dress codes, learning to wave graciously to the masses or diplomatically greet other world leaders, there's a lot for a royal toddler to do. That's why it's so sweet to learn that Princess Charlotte is reportedly learning to ride horses, just like her big brother and so many other royals. The time honored tradition is still being passed down, and it's really, really adorable.
Town & Country reported that Princess Charlotte is already in equestrian lessons, just as her older brother Prince George. Back in May, the Daily Mail reported that Prince George not only practices horseback riding, but actually practices on a small Shetland pony that used to belong to his aunt, Zara Tindall, a former Olympic equestrian.
Previously, The Mirror reported that, while at an event celebrating Olympians and Paralympians at Buckingham Palace in 2016, their mother, Kate Middleton, was overheard saying to equestrian triple-gold medalist Natasha Baker, "Charlotte would have loved to be here but she'd be running riot!" Baker later revealed Middleton said to her, according to The Mirror: "I asked her how the children were and she said Charlotte is really enjoying her riding which is great to hear and I said we may see her here on a line-up in 20 years time."
Well, she was right, but probably didn't guess that it would be just two years before her daughter was reportedly beginning her lessons.
Harper's Bazaar reported that during Baker's conversation with Duchess Kate, she emphasized that Princess Charlotte was "passionate" about horses, and that though she herself isn't a horseback rider, she would be doing her best to encourage Princess Charlotte's love of the sport.
Of course, horseback riding is a royal tradition and celebrated family activity. Though the practice has been around for centuries, most recently, the family's love for riding can be traced back to Princess Charlotte's great-grandmother, Queen Elizabeth II. W magazine reported that the Queen has been riding horses her entire life, and that at 92 years old, she still does so, and was even seen out with her horse the day that Duchess Kate was due to give birth to Prince Louis.
Town & Country previously reported that the Queen received her first horse when she was 4 years old, as it was a gift from her grandfather, King George VI. Since, she's been seen out riding throughout the course of her reign in the monarchy. She's also been known to take "meetings" on horseback, riding alongside other "dignitaries," as she did when President Ronald Reagan visited Windsor Castle back in 1982, according to The Telegraph. (This truly takes the whole "walk and talk" approach to business meetings to an entirely new level, and I am extremely here for it.)
However, the Queen has also received some criticism for not following safety protocols more closely, specifically regarding her headgear, or lack-there-of. (Horseback riding can be dangerous at times, especially for an inexperienced rider.) The Telegraph reported that one of the Queen's biographers said she has always been the "epitome of caution and common sense" when it comes to riding, despite the fact that she has "never worn a hard hat," or in other words, a helmet.
When asked why she refuses to do so despite the obvious safety issue, she said: "I never have, and you don't have to have your hair done like I do." In fact, The Telegraph reported in the same article that the whole issue prompted a running joke in the palace, in which staffers would say: "The only thing that comes between the Queen and her heir is a Hermès scarf."
Though it's yet to be seen whether or not Princess Charlotte abides by the same protocol, it's safe to assume that, like anything else regarding the royal family, safety procedures are taken seriously (especially for children). It's so sweet to see Princess Charlotte following in Queen Elizabeth's footsteps, and perhaps she will even be seen on the polo field, as Vanity Fair reported her father William and Uncle Harry so love to do.