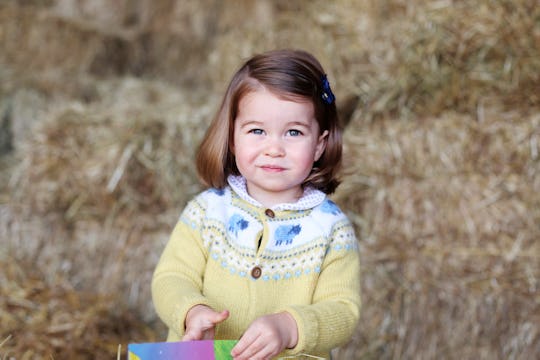 Handout/Getty Images Entertainment/Getty Images
Princess Charlotte Might Change Royal History When Baby No. 3 Is Born & Here's Why
Royal succession has not been kind to female heirs to the throne. Being passed over, bumped down the line, and generally disregarded has been the norm for royal daughters. But that's all changed at Kensington Palace. Thanks to a recent change to succession law, as People reported, 2-year-old Princess Charlotte will change royal history when baby number three arrives for Kate Middleton and Prince William, regardless of whether the new baby is a boy.
Middleton's third child is reportedly due around April 23, according to Cosmopolitan, which means the duchess has just a matter of weeks to wait until her family's newest arrival is here. Much of the growing family's life will change when the new baby arrives, but their respective positions for the crown will not.
The Succession to the Crown Act 2013 changed royal protocol by putting in place a rule that states that birth order, not gender, determines who will become the next king or queen of the United Kingdom, as People reported. Without this act, 2-year-old Charlotte would have been bumped down the line if she gains a baby brother next month. This game-changing legislation was put in place while Middleton was pregnant with her eldest child, Prince George, who is now 4 years old.
The act impacts all children born after the cutoff date, according to The Independent:
In determining the succession to the Crown, the gender of a person born after 28 October 2011 does not give that person, or that person's descendants, precedence over any other person (whenever born).
While Charlotte's place in line won't be impacted, her uncle and cousins will move down from their current positions. As of now, Prince Charles is the heir to the throne after the currently reigning Queen Elizabeth II, followed by Prince William in the second position and his children, Prince George and Princess Charlotte in the third and fourth positions, according to Newsweek. Prince Harry is currently fifth in line, but will move down one, and Prince Andrew (sixth), Princess Beatrice (seventh), and Princess Eugenie (eighth) will all move down a slot as well.
All of the prince and princess titles make tracking royal succession to the throne a bit confusing, and you have the queen to thank for that. On Dec. 31, 2012, Her Majesty made an official ruling that all of the children descending from the Duke and Duchess of Cambridge (read, William and Kate) would be named princes and princesses, Good Housekeeping reported. While she has not done so at this time, she may very well grant the same titles to any of Prince Harry and Meghan Markle's future children.
If you're feeling bad for Prince Harry and his aunts and uncles, don't. Gaining control of the crown isn't at the top of their list of priorities and it sounds like they are all content with their positions. Prince Harry told Newsweek as much in a 2017 interview, saying, "Is there any one of the royal family who wants to be king or queen? I don't think so, but we will carry out our duties at the right time." He, for one, seems content spending his time "energizing people" and doing "charity stuff," as he told the outlet at the time.
Middleton and Prince William have yet to announce the sex of their coming child, but fans won't have much longer to wait. Reports state that London's St. Mary's Hospital is already preparing for the expectant mother to give birth there this month, despite speculation that she would opt for a home birth this time, Cosmopolitan reported. "Wet Paint" signs have been placed outside of the hospital and reporters are permitted to start positioning themselves outside of the hospital as early as April 11.
Check out Romper's new video series, Bearing The Motherload, where disagreeing parents from different sides of an issue sit down with a mediator and talk about how to support (and not judge) each other's parenting perspectives. New episodes air Mondays on Facebook.