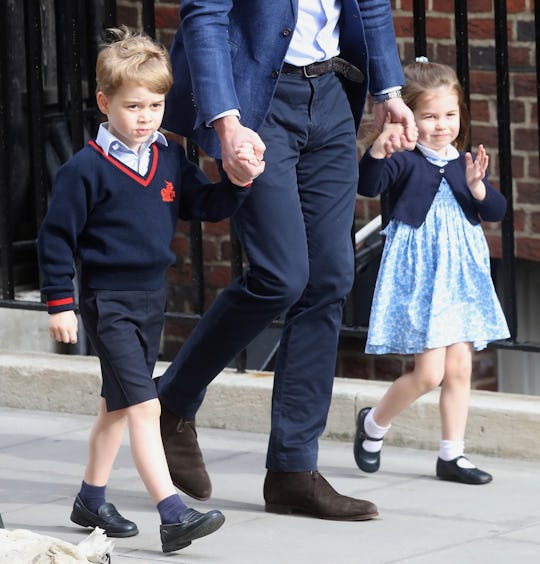 Chris Jackson/Getty Images Entertainment/Getty Images
Princess Charlotte & Prince George Will Attend The Same School Sooner Than You Think
Is it just me, or does it seem like Prince George has grown up overnight? In reality, the oldest child of Prince William and Kate Middleton recently turned 5 years old and will begin his second year of formal schooling in just a couple of weeks. His younger sister Princess Charlotte, meanwhile, is 3 and already attending nursery school. (Where has the time gone!?) The years are clearly passing more quickly than I can keep up with — and this is even with periodic updates and official portraits from Kensington Palace via social media. In fact, as Now To Love reported, Princess Charlotte and Prince George will attend the same school sooner than you think.
In September 2017, Prince George started his first day of school at Thomas's Battersea in London, as the BBC reported. The young royal was escorted in by his father, Prince William. And the"photos of an "unfazed"-looking young prince on his first day were just too precious! His mother, however, was noticeably absent from this milestone occasion. (She was still pregnant with Prince Louis at the time, and had been suffering from hyperemesis gravidarum.)
Despite the fact that he is a member of the royal family, Prince George is treated just like any other students at the school. "Our aim for him, as well as for all of our pupils, is to provide a safe and secure and happy environment where he feels supported by a kind and loving community," Ben Thomas, the former headmaster of Thomas's Battersea for 18 years and is the principal of Thomas's London Day Schools, said at the time, according to Us Weekly. "That's all we will be trying to achieve for him. There won't be any special treatment at all."
This time around, Prince George will be starting school again on Sept. 6 — and reportedly, with both of his parents present at drop-off, according to People. And next year? It looks like it'll be quite the family affair at Thomas's Battersea because Princess Charlotte should be heading off to her first day there, as well, according to Now To Love.
According to the school's website, Thomas's Battersea "educates 560 boys and girls between the ages of four and 13" — which means Princess Charlotte will likely be starting there next year, as Now To Love pointed out. That's because she'll be turning 4 on May 2, 2019. (And looking wayyy ahead, Prince Louis should also join his older siblings by the start of the 2022-23 school year.)
In the meantime, Princess Charlotte — who started her first day of nursery school in January of this year, Town & Country reported — will probably be returning to Willcocks Nursery School for this school year. Conveniently, the school is close to Kensington Palace, according to the publication. (It also happens to cost about $12,000 per year to send your kid there, as Town & Country reported.)
"We are delighted that The Duke and Duchess of Cambridge have chosen the Willcocks Nursery School for Princess Charlotte," the school said in a statement in late 2017, according to TIME. "We look forward to welcoming Charlotte to our nursery in January."
When Princess Charlotte eventually does join Prince George at Thomas's Battersea, it's nice to think her big brother will "show her the ropes" since they're in the same school and all — but that's probably not gonna happen. First of all, I'm sure their schedules will be incredibly different. So it's not like they'll even have the opportunity to pal around if they wanted to. Secondly, if they're anything like typical siblings, they'll probably just ignore each other in the event they actually do cross paths. (At least that's what my sister and I did when I was a senior and she was a freshman in high school.)
Honestly, I'm not sure how Princess Charlotte isn't still a just a toddler. How did I miss it? I'm blaming all the hype leading up to the royal wedding of Prince Harry and Meghan Markle in May, combined with the countdown to royal baby number three's birth in April. All of this anticipation and excitement must have distracted me from even considering the fact that Princess Charlotte would be starting formal schooling fairly soon after her brother.
And don't even get me started on my own second-born child starting kindergarten next year...