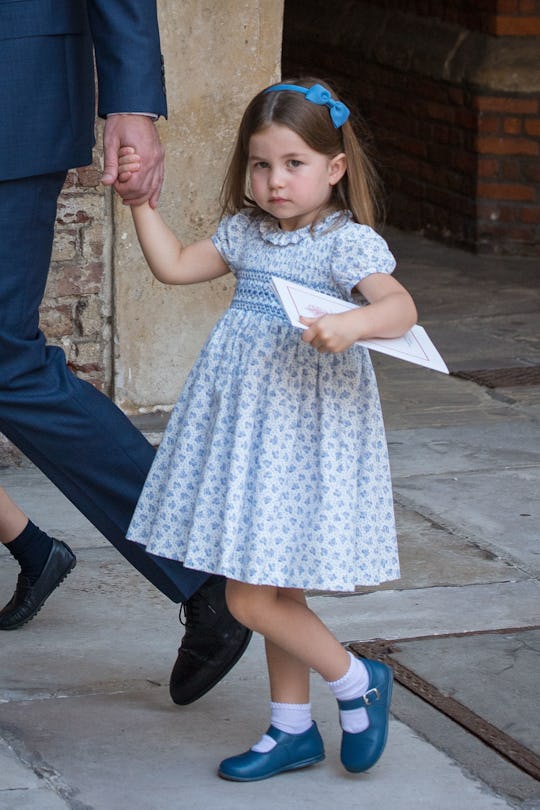 WPA Pool/Getty Images Entertainment/Getty Images
Princess Charlotte Looks *So* Much Like Her Dad In This New Side-By-Side Photo
For fans of the royal family, it's been so cool to watch Prince William and Kate Middleton's little family change and grow through the years. Although the Duke and Duchess of Cambridge try to keep their kids' lives as private as possible, the royal children still make appearances here and there for special occasions. Thanks to a series of official events in recent months — including the birth of a third royal baby, Prince Louis, this past April — fans have been treated to a fairly regular dosage of royal cuteness. And recently, it has come to the public's attention that Princess Charlotte and Prince William are basically twins in this newly-surfaced side-by-side photo.
As you probably know already, Princess Charlotte, 3, is the second-born child of Prince William and Kate Middleton. Although her hair is decidedly darker — more like her mother's — than her blond-haired brother, Prince George, the young princess definitely resembles her father in a new photo comparison. On Thursday, Hello! magazine reported that a side-by-side shot of Charlotte and a young Princes William has been circulating online. One photo is of Prince William all the way back in 1985 at Kensington Palace, when he was just 2 years old. The other shot is a recent photo of Princess Charlotte that was taken at Prince Louis' christening in July. In the side-by-side, you can clearly see that father and daughter have the same eye shape, nose, and even lips. Maybe it's just because they have the same, serious look on their faces in both photos, but the resemblance is uncanny. See for yourself!
Wild, right? Of course, it comes as no surprise that Princess Charlotte seems to be favoring her father's side in the looks department. Elle reported that fans saw a resemblance between Charlotte and her late grandmother, Princess Diana, in another side-by-side comparison earlier this year. (Hmm, to me this one is less convincing.)
And of course, fans have been saying all along that the little princess is basically Queen Elizabeth's mini me. On May 2, the royal family shared an official portrait of Princess Charlotte via Twitter in honor of her turning 3, Town and Country magazine reported. "Wishing HRH Princess Charlotte a very Happy 3rd Birthday!" the photo of the sweetly smiling princess was captioned. Cue: A bombardment of "happy birthdays" — along with a slew of comments noting how much Princes Charlotte looks like the Queen in this particular photo.
At the time, one Twitter user commented, "What a little cutie. No doubt about her bloodline is there she loo just like Elizabeth and Anne did when they were small."
Another person tweeted, "She is the spitting image of the queen."
If you're not totally convinced, here's a side-by-side look of a young Queen Elizabeth II and Princess Charlotte.
And here's another comparison of the pair, except with a more recent shot of the Queen.
Yep, it's official: Princess Charlotte looks so much like Queen Elizabeth. Of course, it isn't exactly shocking that there's a resemblance — because genetics and whatnot — as one Twitter user pointed out. "'Family members have likenesses' Groundbreaking," one person tweeted in May. LOL.
As inconsequential as the debate is surrounding which relative Princess Charlotte looks the most like, it's still fun comparing. Personally, I think Princess Charlotte currently favors her great-grandmother, Queen Elizabeth, the most in the looks department. Then again, she's only 3 at this point — and her facial features will likely change slightly through the years. It'll definitely be interesting to see who she resembles most in the coming years. And thanks to Kensington Palace's regular portrait updates — as well as press photos from official royal events — fans across the world will get to see the little princess grow up, too.