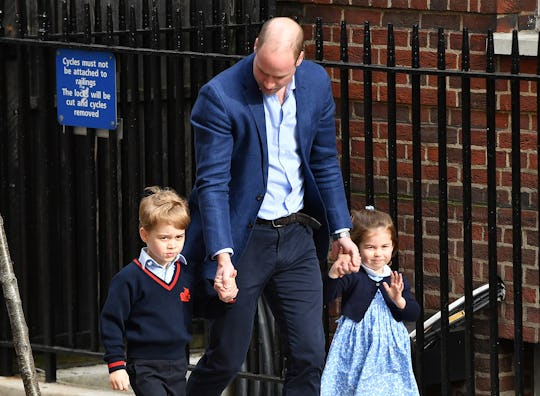 Gareth Cattermole/Getty Images Entertainment/Getty Images
Princess Charlotte Reportedly Wore A Hand-Me-Down In This Recent Photo
There are so many pros and cons to having older siblings. Sure, older siblings are the ones to figure everything out, paving the way for their younger siblings to learn from their mistakes. But at the same time, older siblings get everything first, leaving their younger ones with their hand-me-downs (which doesn't seem fair). Not even members of the royal family, or Prince William and Kate Middleton's kids, are immune. And in new photos released by Kensington Palace over the weekend, Princess Charlotte reportedly wore a hand-me-down from her older brother, proving that hand-me-downs are a part of all siblings' lives.
These photos, shared by Kensington Palace over the weekend marked the first official photos released of Prince Louis since his birth on April 23 when he was seen on the steps of the hospital a few hours after his mother welcomed him into the world. People, of course, were waiting to get another glimpse of the little royal and they finally did. In the first photo released by Kensington Palace on Saturday and taken on Princess Charlotte's birthday last week, according to Kensington Palace's Instagram, Prince Louis looked so angelic. And in the second photo, Prince Louis posed with his older sister, Princess Charlotte, who looked at her younger brother so adoringly.
But there is something special about the photo of Prince Louis and Princess Charlotte, according to People — and it doesn't have to do with the fact that it is the first photo of Princess Charlotte that has been released since her third birthday last week. It's because Princess Charlotte is reportedly wearing a hand-me-down from her older brother in the photo, according to People.
It's something that only serious royal watchers would definitely be able to pick up. But it's true — Prince George wore that same exact sweater in a photo taken in 2016 to commemorate the Queen's 90th birthday, according to People. Don't believe that the royal family would reuse clothing items, let alone pass them down through the family? Seeing is believing. Prince George is wearing the sweater in the below photo from two years ago — posted to the Royal Family's Instagram account. It has a white design knit around the collar, and it looks identical to the sweater Princess Charlotte wore in the new photo of her and Prince Louis.
Of course, there is absolutely nothing wrong with anyone wearing hand-me-downs, let alone members of the royal family. If parents ever feel ashamed for giving their children clothing that their other children had previously worn, then this should be proof that it's normal — even for the royal family.
But this definitely isn't the first time that Princess Charlotte has worn hand-me-downs. Just last year, Princess Charlotte was spotted wearing the same shoes that her uncle, Prince Harry, wore in the mid 1980's, according to Harper's Bazaar, in addition to different sweaters that her older brother once wore before her, according to The Sun. And because Princess Charlotte has worn hand-me-downs from her family, according to the Daily Mail, it is likely that Prince Louis will wear hand-me-downs as well, especially since his wardrobe will incorporate elements from both of his older siblings. But according to Us Weekly, he is already on the receiving end of hand-me-downs. Prince Louis' nursery reportedly is full of Prince George and Princess Charlotte's old toys, according to Us Weekly. And in this new set of photos released over the weekend, Prince Louis is reportedly wearing the same onesie that Princess Charlotte wore in her first official portrait, according to the Daily Mail.
If that's the case, then it's likely that this won't be the last time people see Princess Charlotte (or Prince Louis) wear hand-me-downs in public. Just because they're royals doesn't mean that Middleton and Prince William don't understand the importance of saving and reusing clothing.